For those who couldn't be here: Handful of rez schools express pride in representing North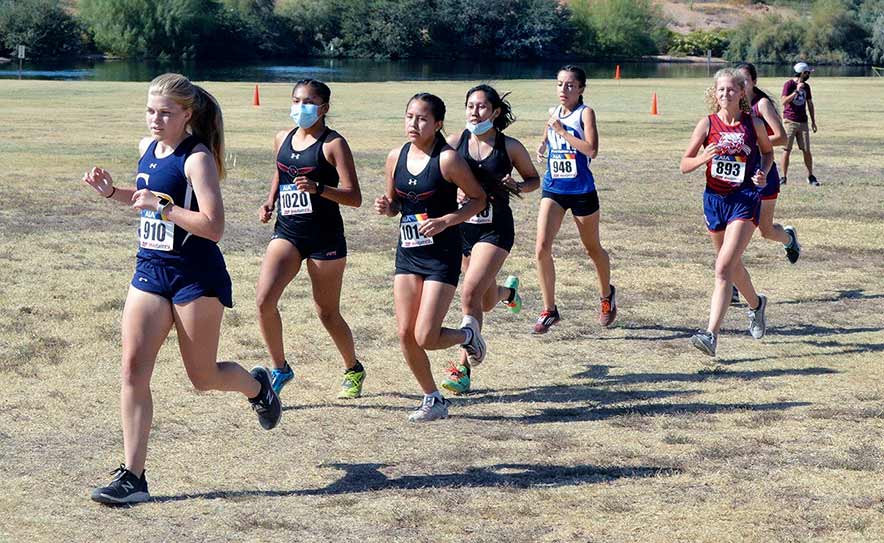 By Candace Begody
Special to the Times
GILBERT, Ariz.
A majority of local schools were unable to compete at the 2020 Arizona state cross-country meet last week in the Valley, but even so, those that did compete found a way to ensure that all reservation schools were represented.
Typically, many of the North teams make a strong showing at the state meet but due to COVID-19, many schools were forced to cancel their entire seasons.
Among those given the go-ahead to compete at the state meet were Page, Winslow, Holbrook and St. Michael, all of which entered only a handful of runners.
The teams sported custom-made T-shirts with the words, "We race for those who can't" blazed across the back, with a list of many reservation schools including Alchesay, Chinle, Ganado, Many Farms, Monument Valley, Pinon, Red Mesa and Rock Point, to name a few.
"We wanted to acknowledge what was happening with COVID, but we also wanted to do it in a way that showed respect to everyone," said St. Michael head coach Kelly Upshaw-Bia. "I really felt like we had to remember why we were here – to remember those who couldn't be here, to remember that we're very fortunate, and that we have to give everything we can.
"It has been tough for many teams to have to sit out this year," she said.
St. Michael was the only local school in the Division IV race. The school entered a full girls' team, but only one male runner.
The St. Michael girls placed 9th overall as a team. The lone male runner, sophomore Kyler Williams, placed 55th in a time of 19:34.
The girls were led by senior Chiara Holgate placed 36th with a time of 22:37.3, followed by Star Anderson in 40th place with a time of 22:49.6.
Sophomore Amber Woody crossed the finish line in 23:03.5 and in 46th place. Seniors Ashley Phillips (53rd) finished in 23:56.4, followed by Auri Quintana (58th), who finished in 24:26.2.
Seniors Lynelle Slim (60th) finished in 24:34.7 followed by Brianna Williams 30:36.7 (78th).
"I am very proud of them," said Upshaw-Bia of her team. "They ran with their hearts and did the best they could with what training they had under them."
Like many schools, there was a lot of uncertainty about whether the Cardinals would even have a season. When they received the go-ahead from school administrators, they only had two weeks to prepare for the sectional meet and even then, practice was done virtually.
One week after sectionals, they were stepping to the line to race in the state meet.
"When you're in practice, you can see their faces and you can see where they're at mentally and physically," said Upshaw-Bia. "With virtual training, you are trusting that they will get in the workout. You don't know how they feel, you don't know where they're at.
"It was really hard to do and with only having three weeks of it, it was tough," she said. "But I am happy they got a chance to experience the state meet, especially for the seniors."
It wasn't even about how well the team did, it was simply about finishing the race, according to Upshaw-Bia.
"Coming into the meet, the team was just grateful and thankful to at least be here and experience the state meet," she added. "Many schools are starting to close again, and they ran for each other, they ran for their families, their school, and for all the runners that couldn't be here."
St. Michael senior Chiara Holgate shared the same sentiment.
"I am so proud of the team," Holgate said. "We knew we had to leave it all out there and give it our best. It was heartbreaking when they canceled fall sports and we thought that it was it. It was hard to get back into the mindset of racing again, but we bounced back pretty quick.
"We knew what we needed to do and most of us had done this three times before," she said of having state meet experience. "We know how to run our own race. We told each other, we know what to do."
Though intimidated by the more experienced competitors, sophomore Kyler Williams said, "My coach came over to me and reminded me that I wasn't alone and that even though I was the only one, I did have a team behind me. I am glad they were here to support me. I couldn't have done it without them."
Division III
In Division III, the Page boys fought to an overall third-place finish, led by seniors Trent Holiday and Rex Martin.
"I am a very proud coach," said Page head coach Theo Martin. "We were happy to get the team to the state meet and to do a pretty good job, especially given the circumstances of COVID.
"They were really sad that they lost but there is no shame, especially what they had to do just to get there," he said. "I told them after that sometimes you have to lose to come back stronger. I hope they'll come back for track and summer, and train twice as hard so we can win next year. We do have a strong team coming back."
Though the team will lose its No. 1 and No. 2 runners, the remaining six will return. Holiday finished in third place with a time of 15:53, while Martin finished fifth place with a time of 16:14.
Of their third-place finish, Martin said, "I think we represented the North pretty well. We had to overcome a lot of obstacles to do that. They ran well for the amount of training we were able to do together. Some exceeded their expectations, other didn't feel like they did well."
Page also sported the custom-made T-shirts, which were designed by other North coaches.
"Some of the other coaches got together and collaborated on that," Martin said of the T-shirts. "We represented everybody. The team felt like a sense of pride that we were able to do that for the North. It was a responsibility to do as best as we could to represent the Navajo Nation."
In recalling the race, Martin added that his team was well on their way to a state title halfway through the race.
"The total mileage we were able to put in together was low because of the three-week timeframe we had to work with," he said. "The younger ones faded in the last mile, but it is still honorable what they did. We were lucky to be there. We are glad just to be given the opportunity to represent Page and the North."
Page's other scoring runners included: sophomores Quentin Davis in 21st place with a time of 17:01.80; Shayden Begay placing 35th in 17:40; and Gavyn Begay in 42nd place with a time of 17:50. Cody Slim placed 55th, followed by Tanner Dugi in 69th.
On the girls' side, freshman Jade Reid placed 9th with a time of 20:14, followed by a 61st effort from teammate Sofia Cambridge (22:01.5).
Representing Holbrook was junior Abigayle Nez, who placed 57th and crossed the finish line in 21:52.
Winslow also had two runners including juniors Kailar Charley and Payton Nicholas, who placed 62nd and 71st, respectively.
---