Lady Eagles persevere to survive quarterfinals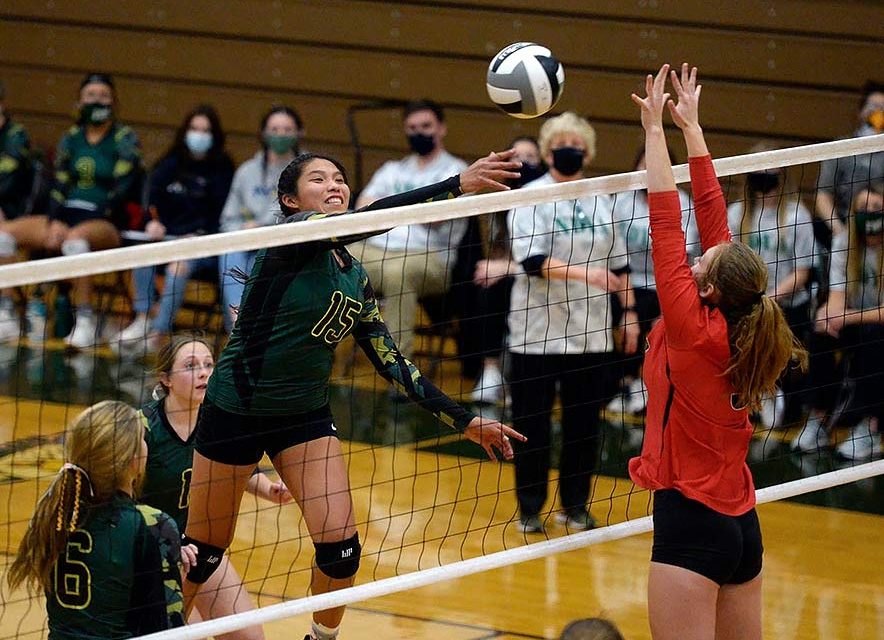 FLAGSTAFF
A 7-2 deficit in the fifth set didn't deter the Flagstaff Lady Eagles.
Behind some key blocks and timely kills, the Eagles survived another day as they ousted No. 3 seed Glendale Deer Valley in the Arizona 4A state quarterfinals.
The No. 6 Flagstaff team advanced with a 30-28, 19-25, 26-24, 15-25, 15-12 win.
The Eagles will play at No. 2 seed Salpointe Catholic in Tucson at 6:30 p.m. tonight with the winner advancing into Saturday's championship game at 11 a.m. at Mesquite High.
To make Tuesday night's semifinals, Flagstaff defeated city rival Coconino in straight sets last Saturday night. The Eagles trailed early but turned things around to post a 25-22, 25-22, 25-20 win over the Lady Panthers.
When the state brackets were released earlier last week, longtime coach Flagstaff Beth Haglin was initially bummed that her team was matched up with Coconino in the opening round.
"It's such an emotional game," Haglin said of playing their archrivals. "I told them tonight (Saturday) that they had to take the emotions out of the game. They just needed to play hard and I think that's why we played a little flat.
"I kept telling them to take the emotions out and do your job," she added. "If you do that on paper you're gonna to win the game."
Like their coach, Flagstaff outside hitters Gracelyn Nez and Bridget Bond felt uneasy about playing Coconino in the first round of the state playoffs.
"Every game we have with Coco is always a mental game," Nez said. "We know those girls and some of them grew up together so it's more of a mental game with Coco."
"The fact that we're playing our hometown rivals is so emotional because we played with half of those girls in club," Bond said. "We had to shut out who they are and just play our best but it was still terrifying because nobody wants to be kicked out of the first round at state."
Trailing 17-11 in the first set, Flagstaff tied the game on a 6-0 run with senior middle hitter Alyssa Prager putting across two aces while Bond added a pair of kills.
The Eagles took the lead for good on a Coconino error for a 19-18 cushion. With both teams trading side outs the game remained tight but Flagstaff snatched the opening set on a pair of Coconino hitting errors.
With the game tied at 15-all, the Eagles used a 4-0 run to gain some distance, as that cushion was enough to hold onto a 25-22 win.
In the third, Coconino gained an early 5-1 lead but after the Eagles settled down the game was tied five times with the last coming at 10-10.
Behind a bevy of crafty hits from Nez and senior outside hitter Ainsley Thomas, the Grand Canyon Region champs gained a 20-14 advantage as they rode out the momentum, which included the game-winning kill by Bond.
"There were a few times that we were down but we just continued to fight," Bond said. "We never let up and I'm just so unbelievably proud with how we fought. We came together as a team."
Winners of seven of their last eight games, the team is impressing Haglin.
"I don't necessarily know if we're peaking but we're definitely playing good ball," she said. "The girls are enthusiastic and passionate about what's going on, and that's good."
Nez, who was out three weeks with an ankle injury in the middle of the season, feels that things are starting to come together.
"I feel like our chemistry is building and that's why we're playing very good," she said. "Our practices are becoming more competitive and it's making everybody else better."
---