KC sprinter earns 3 bronze medals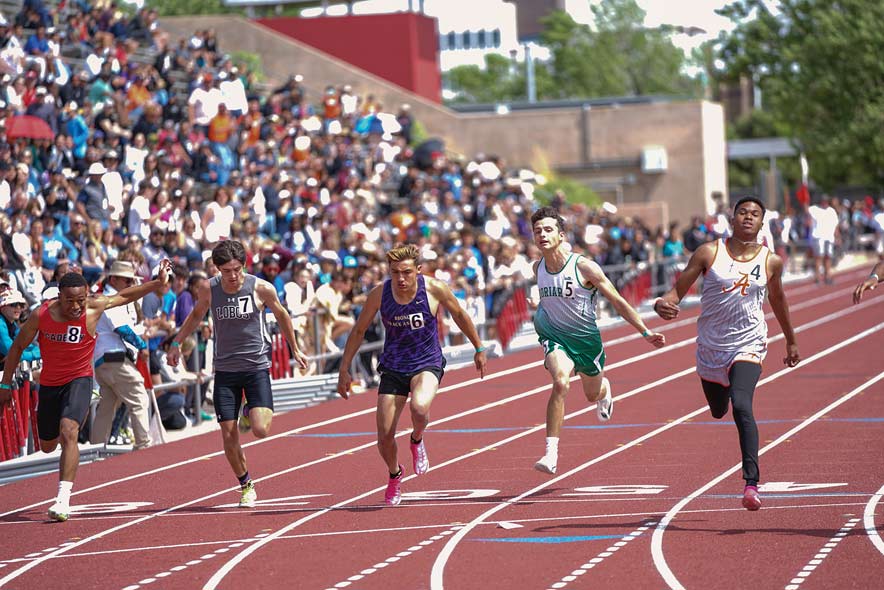 ALBUQUERQUE
An ankle injury couldn't deter Kirtland Central sprinter Kyler Joe from doing what he loves.
Last fall, Joe tore his tendon during the soccer season, which required surgery.
He was unable to wrestle this past winter since he was in crutches. And a month before the track season started he was put into a boot.
"I started out the season throwing," Joe said.
Despite not being 100 percent, Joe earned three bronze medals at last week's New Mexico Class 4A state track meet at the UNM Track Complex in Albuquerque.
"I guess I did pretty well, considering that I was injured before," the KC senior said.
Next season, Joe will be competing for the John Brown University men's track team in Siloam Springs, Arkansas.
At Saturdays' state meet, Joe made the finals in the 100, 200, 400 and 4×200 as he placed third in his individual races while helping the Bronco relay team to a fourth place finish.
Joe also competed in the pole vault as he took fifth with a 12-feet effort.
The marks he posted in the sprinting events were 11.33 seconds in the 100, 22.19 seconds in the 200 and 48.83 seconds in the 400.
Of the three individual races, Joe said his best chance to win silver was in the open 400.
"All the kids in my race were pretty fast," he said, "but if I was in 5A, I would have won it."
The KC 4×200 relay team completed the two-lap race with a time of 1:32.90. The team consists of senior Brandon Ockerman, junior Caleb Sisson and sophomore Noah Warner.
Ockerman earned two other podium appearances with a third place finish in the triple jump (42-06.25) and a sixth place effort in the open 200 (23.05 seconds).
The Broncos also got a pair of third place finishes from seniors Satchel Hogue and Rutherford Becenti. Hogue cleared 6-feet in the high jump while Becenti threw the javelin 149-08.
In the 3200-meter run, KC sophomore Dathan Esson placed fourth, covering the eight-lap race in 10:09.35.
---