Lady Bears look 'incredibly strong,' coach says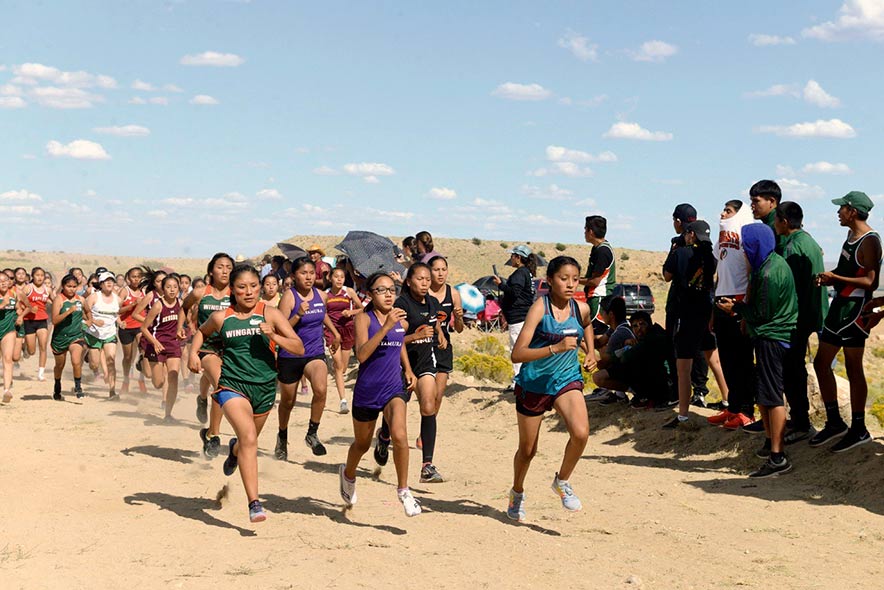 WINDOW ROCK
There is a new look to the Fort Wingate girls' cross-country team.
With the addition of freshman Farrah Chavez, the Lady Bears showed newfound firepower during their home meet at last Saturday's Bun Buster Invitational.
Wingate captured the team title by scoring 52 points at the eight-team invitational.
Grants came in second with 72 points while Crownpoint tallied 92 markers followed by Navajo Prep (101), Thoreau (102), Rehoboth (106) and Tohatchi (125).
"They all ran well," second-year Wingate coach Donavan Jackson said. "Overall, the girls are looking incredibly strong, which is very exciting."
The Bears had two runners make the top 10 while a third runner missed that list. The meet host was led by junior Jewels Leslie who copped first-place honors with a time of 23 minutes, 34 seconds. With a time of 26:00, Chavez placed eighth while senior Octivia Long took 11th place.
"If you look at our first six runners, Jewels came in nearly 40 seconds ahead of the second-place finisher," Jackson said. "She looked incredibly strong, even from the first mile marker."
As for Chavez, Jackson said his freshman pupil exceeded his expectations in her second varsity race.
"Her performance brought the team up," he said. "That's been the key difference in what's happened from this meet to our other meets. What also helped was Octivia Long was right behind her."
Jackson said his No. 3 to No. 6 runners – Erica Yazzie, Tenara Morgan and Riley Ahasteen – are also coming on strong. The three runners placed 18th-, 20th-, and 23rd-place in last Saturday's meet.
"They were only separated by five places and they finished ahead of the No. 3 runner for many of the other teams," the Wingate coach said. "They're all running very well."
With a time of 24:14, Crownpoint eighth grader Tyra Tsosie collected her second consecutive runner-up finish as she was the reserve champion at the Nashdoitsoh Invitational three weeks ago.
Tsosie outlasted Tohatchi eighth grader Brooke Badonie by six seconds while Valley senior Nizhoni James placed fourth ahead of Thoreau's Shanell Edsitty.
Grants junior Kristina Simpson headed the next five with a sixth-place finish ahead of her teammate Skylar Charlie. Wingate's Chavez came in next followed by Rehoboth's Nina Bitsilly and Crownpoint freshman Janaya Tom.
Of the teams in District 1-3A, Zuni was the only squad not at the meet. Jackson said he came away impressed with the way his girls competed but he cautioned that things could change in the way they stack up with their district counterparts.
"It's still the beginning of the season," he said. "One of the things I'm really trying to emphasize is we need to keep our consistency up and we need to keep running well in a pack."
Nonetheless, he said their latest win does put his team on notice.
"I think my girls are realizing that they are going to have a target on their back because they are running well," he said. "If they can continue this – not only are they going to state, but I think they can be competitive there.
"It's exciting to see how well they're doing but we're still taking a week by week and focusing on the end of the season," he said. "We're taking these little victories as indicators that we're on the right track."
Jackson was equally impressed with his boys' squad at they placed fourth overall with 94 points. The Bears finished behind event winner Navajo Pine (44), Tohatchi (84) and Navajo Prep (86).
"We finished six points and 10 points behind Tohatchi and Navajo Prep," he said of their district foes. "There is a big difference from where we were at before because they just left us in the dust in the past."
The Bears were led by senior Kyren McCray, who completed the course in 20:32 for an eighth-place finish. Freshman Jordan Wagner was Wingate's next top finisher as he took 11th-place honors.
"Jordan's finish really helped a lot," Jackson said of the team score. "I think overall the boys are looking stronger and healthier."