Page boys stretch state title streak to 6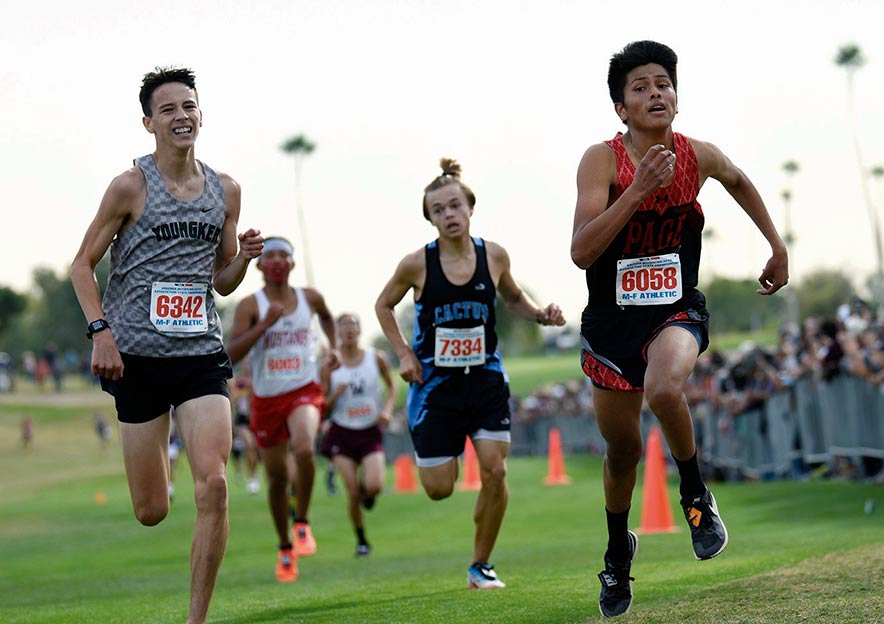 PHOENIX
Surrounded by youth, the Page Sand Devils got the perfect ending.
The Sand Devils were considered by many as an afterthought entering the Arizona Division III state cross-country meet after losing four members from last year's state championship team.
"We were definitely underrated coming in," Page coach Theo Martin said. "Everybody kind of forgot about us but I knew what we could do."
Led by its three standouts – Trent Holiday, Rex Martin and Skylar Sandoval – the Sand Devils captured the program's 17th state title last Saturday at Cave Creek Golf Course in north Phoenix.
Their latest win kept a streak intact as Page has claimed the last six state titles.
"Division III has grown within the past few years and since we lost a lot last year everybody thought they could take us out," Martin said. "But these boys know how to win. We have new kids coming in, expecting to replace the guys that we lost. It just shows that whatever kid comes through our program we're going to make them champions."
Page finished the team standings with 62 points with Prescott (140) and Monument Valley (154) a distant second and third.
"It feels good knowing that we won this again after we lost so many guys last year," said Holiday, who placed third overall with a time of 16:13.2. "I felt that this was my year and my teammates year and all we wanted was a state championship."
Despite getting very little press, Holiday didn't doubt his team.
"Honestly, I knew we could do it," the Page junior said. "I knew we had some talented runners and I felt that we were ready. We put everything together and we all worked hard and it showed."
Holiday said he tried his best to win the individual crown as he finished behind state champion Roshan Tinoco-Miranda (15:53.4) of Rio Rico and Walden Grove's Johnathon Lane (16:09.2).
"I felt like I gave them a challenge," he said. "I made them work for it because I didn't give up. It was a good race between us three and in the last 800 meters it was who wanted it more."
As for the two other returnees, Sandoval (16:35.9) finished ninth while Rex Martin (16:52.0) took 13th.
"Those guys could finish in the top 10 so we really relied on our freshmen," Theo Martin said. "They really brought it on for us."
Of the three freshmen that ran in Saturday's race, Quentin Davis (17:03.1) placed 20th and to complete the team score sophomore Colten Yazzie (17:23.1) garnered 28th-place.
"Quentin came through big time," Martin said. "I told him that it had to do with his magic shoes. He bought that pair last (Friday) night."
The Page coach said Yazzie ran a good race as he has dealt with some racing anxieties in the past.
"He could be back or he could run in front and today he ran average," Martin said of his pupil.
The Sand Devils also got a 71st performance from Shayden Begay (18:15.2) and 124th showing from Gavyn Begay (18:56.5) as the two freshmen took part of the state meet.
Gavyn said he was happy to be part of this year's team and more importantly he was ecstatic that they keep the tradition alive.
"Every since I was in middle school I've watched the high school team win state," he said. "It's something I've always wanted to do and here we are as freshmen we won a state title with them."
Admittedly, Martin said his freshmen bunch was running way too hard during practice prior to the state meet.
"I had to actually get on those three freshmen," he said. "I had to tell them to relax because they were racing tired. The last three weeks I really had to put the reins on them and pull them back because they were running too hard on their easy days."
He said they were trying to keep up with his top three runners and when they did they didn't perform as well in their scheduled meets.
"They were running crappy so I had to pull them back a little," he said.
Going into state meet, Martin said he made no mention of the school's recent string of state championship wins. Instead, he reminded his team about the work they put in to get there.
"I felt that everybody was ready to run at their best ability because they trained properly," he said. "They followed the program properly so they were ready for race day.
"They believed me as the coach," he added. "That is what it all came down to."
---