Grants rolls over KC, next plays No. 1 Bloomfield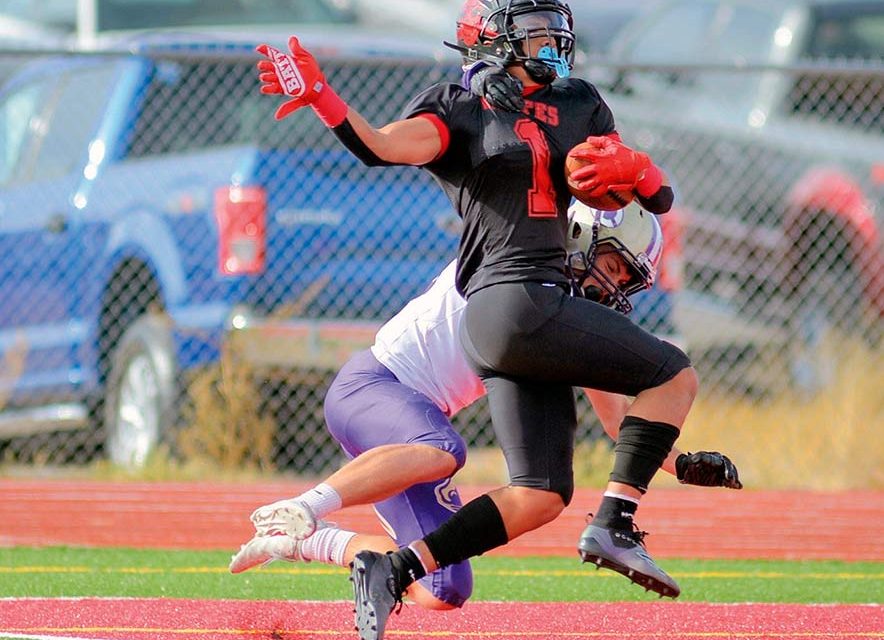 By Michael Peretti
Special to the Times
GRANTS
It was a chance for payback for the Grants Pirates as they avenged their only loss on the season Saturday with a dominating 56-13 win over the Kirtland Central Broncos in the Class 4A state football playoffs.
"Our defense played lights out today," Grants head coach Rio Thompson said. "We are beginning to peak at the right time."
Isaiah Johnson ran for 219 yards and two touchdowns, and the Pirates put together a crushing defense to give them the win and put them in the state semifinals next week. They will face No. 1 Bloomfield on Saturday.
"If we play our best football, I think we can compete with any team in the state," Thompson said. "Every game we play we have to come out and play our best."
The Pirates who are the No. 4 seed, improved to 10-1 on the season.
After falling behind 6-0 in the opening period after a 1-yard score by Kirtland's Zakk Thomas, Brian Hernandez took the ensuing kickoff and returned it 84 yards for a score to give Grants their first lead of the game.
Hernandez came through again on a touchdown reception from Brandon Furbee to make it a 14-6 lead just before the end of the first quarter.
From there, Johnson took over.
He broke away for a 53-yard run in the second quarter and then Carl Hager scored on a 39-yard run to give the Pirates a 28-6 lead with under a minute left in the half.
Kirtland was able to score on a 46-yard pass just before the half to cut the lead to 28-13 at the half, but Grants never let Kirtland get into the game in the second half.
Adrian Ortega returned an interception 30 yards for a touchdown in the third quarter for the only score in the period, pushing Grants' lead to 35-13.
Johnson then intercepted a pass and returned it 100 yards for the score and a 42-13 Grants lead.
Johnson scored on a 17-yard run with four minutes left in the game and then Jordan Mattilla scored on a 1-yard run two minutes later to push the score to 56-13.
That score came after Ortega had his third interception of the game.
Furbee was 6-for-14 for 102 yards with one touchdown and one interception.
For Kirtland Central, Thomas finished with 108 yards.
"Grant's kicked our butts today," KC head coach Greg Jenks said. "They came to play and we didn't. I thought we would have our team ready, but obviously we didn't. This loss is on me."
Kirtland Central ends the season 6-5.
---