Shiprock girls, boys teams win WR Invite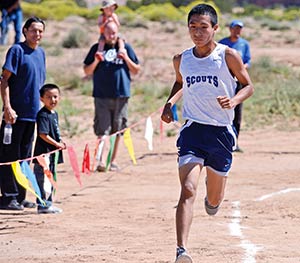 The Shiprock girls and boys teams and Window Rock's Chamique DuBoise and Nathaniel Henio turned in strong performances en route to championships at the Window Rock Cross-Country Invite last Friday.
"There was good, solid competition today in both divisions," said Window Rock head coach Steve Fabina. "The invite was very competitive. Shiprock is always a strong team in the girls and boys divisions. Shiprock has good individual runners.
"I was impressed with Red Valley-Cove's boys team," he said. "If they can get a fifth runner, they will be state contenders in their respective classification."
Shiprock nailed down the girls team title, posting 31 points as the Lady Chieftains' five scoring runners finished in the top nine positions. Host Window Rock claimed second place, turning in 40 points among nine schools.
"The young ladies ran extremely well today," said Shiprock girls' head coach Alice Kinlichee. "The young ladies opened the season with a strong performance. I was impressed with how they handled themselves today. This meet gives me an indication where we stand and what we need to do to improve."
The Shiprock boys' team netted 73 points for top honors. Window Rock chalked up 84 points for runner-up laurels.
"I was pleased with the guy's performance," said Shiprock boy's head coach Brian Paniagua. "It is always nice to begin the season with a team title. The competition here today was a challenge."
Window Rock sophomore DuBoise won her second race within four days. Duboise was clocked in 19:13 over the 5K course. Earlier in the week, DuBoise captured the individual title at the Hopi Cross-Country Invite.
"I wanted to win the race on my home course in front of the hometown fans," DuBoise said. "We've been practicing on our home course, so I knew when to make my move."
Similar to DuBoise, boys individual champion Henio garnered his second title within four days. Henio negotiated the 5K course in 16:21. Henio won his third championship of the young season. He won the Navajo Pine and Hopi invite's earlier this season.
"It is a fast course," Henio said. "I pulled away early in the race. There is some sand and three small hills. I wanted to pull away early and have the other runners come after me."