Zuni boys, Navajo Prep girls capture team titles at Miyamura meet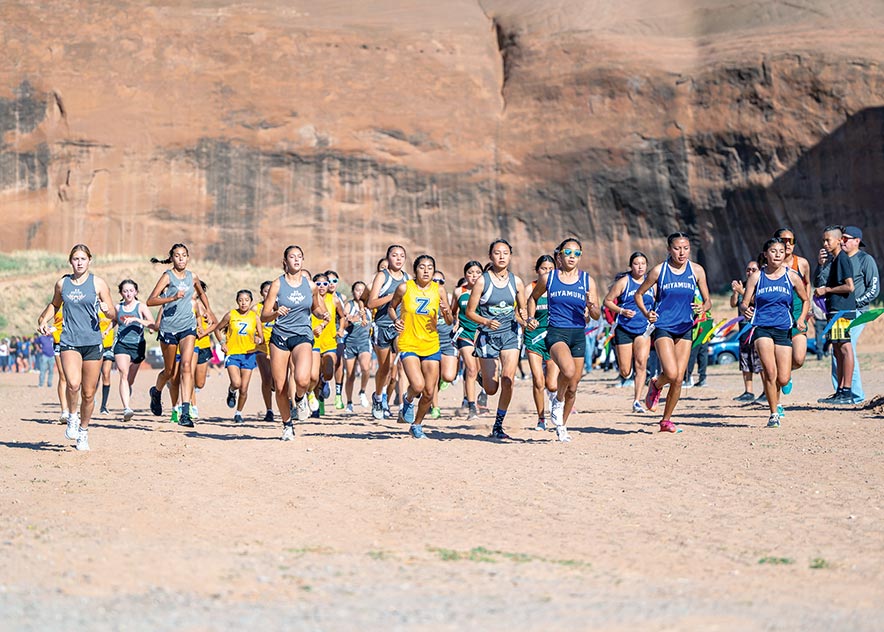 By Santiago Ramos Jr.
Special to the Times
CHURCH ROCK, N.M. – It was a blue-and-gold parade to the finish line during the Miyamura Invitational Saturday morning at Red Rock Park.
The Zuni T-Birds boys cross country team dominated the varsity boys race packing its five runners in the first eight spots and all seven in the top 15.
Zuni ran away with the boys team title with an impressive 22 points easily outdistancing runner-up Navajo Prep with 48 points. Host Miyamura was third with 75 points, followed by Aztec 113, Whitehorse, Utah 135 and Wingate 143.
Veteran Zuni head coach Chris Carroll said that his team was focused this week after running at the Albuquerque Academy last week.
"We knew that Academy is one of the toughest 4A schools in the state. That's always a challenge for us," Carroll said. "And I think the kids let the pressure get to them who they were and we really didn't run the race we could have ran last week. So today our goal was a little different to come in and just start focusing on who we are. I always tell the kids to focus on one color.
"We don't focus on purple, we don't focus on red, we don't focus on any color but yellow," he continued. "We just focus on yellow. And so that's what we did today. We focus on yellow, we packed up at the halfway point and I think that helped carry us along to where we can come in. Having six in the top 10 that's always outstanding this time of the year. It will build confidence for us."
It was a closer finish in the varsity girls race with Navajo Prep finishing on top with 53 points with Zuni a close second with 64 points. Wingate was also right behind Zuni for third with 69 points followed by Aztec 75, Miyamura 76 and Whitehorse 158.
Most of the area schools will be competing at the Shiprock Invitational Saturday.
Boys
Zuni sophomore Deron Lastyano led the T-Bird parade to the finish line at Red Rock Park covering the sandy 3.1 mile course with a winning time of 17:14. Navajo Prep freshman Elijah England was six seconds back of Lastyano with a 17:20.
Lastyano, who finished seventh at state last season, beat 37 other harriers.
"The course was pretty sandy," Lastyano said of his first time on the Red Rock Park course. "Some parts were flat, not many hills. The toughest part was the sand, digging deep.
"The beginning I tried not to go out too fast," said Lastyano who finished second at the Academy meet last week. "Hanging in there in the back until I felt I was ready to push. I decided to push when I got to the pavement at the halfway point. I kept the lead from there. I felt pretty relaxed at the halfway point. The last mile I started to pick up my pace so that I wouldn't get beat."
At the Academy meet, the Zuni runner said he took off too fast and he lost the lead.
"The Academy runner was doing surges the last 400 (meters ) of the race," he said. "I learned from that. I decided to stay back. That will be my strategy."
T-Bird senior Andrew Romancito was a distant third (17:45) followed by fellow teammate senior Kiohn Duran fourth (17:53). Prep's Mac Cousin was fifth (17:58).
Zuni's fourth and fifth runners were Jeremiah Eisenga sixth (18:04) and sophomore Aaron Lahi eighth (18:13).
Miyamura's Luke James finished seventh (18:08). Zuni sophomore DeShawn Sooseeah was ninth (18:15) with Miyamura's Titus Skeet rounding out the top 10 (18:21).
Aztec's top finisher was Noah Higgins who finished 17th (19:11). Whitehorse's top finisher was Ethan Begay who was 14th (18:50) and Wingate's top finisher was Tommy Bernal who was 22nd (20:04).
The Zuni boys are gunning for their fifth consecutive Class 3A state title if you don't count 2020 when COVID hit and Zuni did not compete at state. The Zuni boys have amassed 22 boys state team titles with the Zuni girls with 10 state titles of their own.
"The COVID year we weren't at the state meet and personally I don't count that," Carroll said. "As I told the kids we always have a target on our back and that we need to be ready for anything that comes at us."
Carroll says he's hasn't seen the other top 3A teams in the state yet.
"We know Santa Fe Indian and Cottonwood and all these schools on the east side will be there," he said. "We'll probably see them more this year because we will be heading that direction and maybe get a chance to see what's out there.
"My top seven is not set," Carroll added. "I have some JV kids that are hungry and they want to be on that top 7 and they will battle. They may run PRs today and knock off somebody. We compare times and take the top 7 times and that's who runs varsity the next meet."
Girls
The competition was closer in the varsity girls race.
Navajo Prep put its first three runners in the top 10 to finish ahead of Zuni – 53 to 64. Zuni junior Maleah Lalio who topped the field of the other 37 runners, was the lone Zuni runner in the top 10.
Lalio, who finished fourth at the Albuquerque Academy last week, just missed running under the 20-minute barrier with a winning time of 20:01.
Veteran Navajo Prep senior Nicole Tsosie, who challenged Lalio for much of the race, was eight seconds back with a 20:09.
Lalio, who transferred from Ramah High last year, said she tried to stay calm during the 3.1 mile race.
"I just tried to stay calm the whole way," Lalio said after her win. "I knew that I would get overworked and then I would start to slow down. I stayed with the pack the whole way until the half mile point. I stayed with Navajo Prep (Tsosie) until the end. I had a pretty good finish. I had a kick at the end. I feel great. The course was pretty smooth with quite a bit of soft sand."
Navajo Prep head coach Stephanie Coon said she loves having a runner like Tsosie, a four-year varsity runner.
"She has what every coach wishes they could give to their kids," she said. "She knows how to race, she thinks about it, she's very methodical and she approaches racing you can't teach that. It's something she's learned. She's pretty good in the classroom too."
Miyamura's Lorianna Piestewa placed third with a 20:18 followed by Wingate's Felicia Tom fourth (21:28), and Aztec's Alisia Valerio fifth (21:55).
Rounding out the top 10 were Aztec's Autumn Villanueva sixth (21:55), Miyamura's Shelby McCray seventh (22:17), Wingate's Uriah Garcia eighth (22:32), Navajo Prep sophomore Kameron Dale ninth (22:34) and Navajo Prep sophomore Lillia Petago 10th (22:58).
Navajo Prep's fourth and fifth runners were junior McKenzie Ashley-Willie 14th (23:26) and senior Harmony Boone 18th (23:57).
Coon, who has coached at Prep since 2009, returned her entire girls varsity team from last season.
"Last week (at Tohatchi) we just had them race just to kind of get the feel," Coon said. "Today I told them to just be patient and just see where you are at. Getting them back into the mindset of racing. They did good. They did what we told them to do. They ran well. They looked strong. Everybody PR'd today. I told them to be patient and not to take off too soon. I'm pretty happy with the girls and the boys the way they ran. They looked well, they looked strong."
Whitehorse's top finisher as Lamyia Benally who was 20th (24:07).
Carroll said he's thankful for the Zuni fans for supporting the T-Birds and Miyamura for hosting the meet.
"I want to thank the fans for coming out and supporting the Thunderbirds and I also want to thank Miyamura for putting on an outstanding meet today."
---