Diné helps win volleyball tourney in Hawaii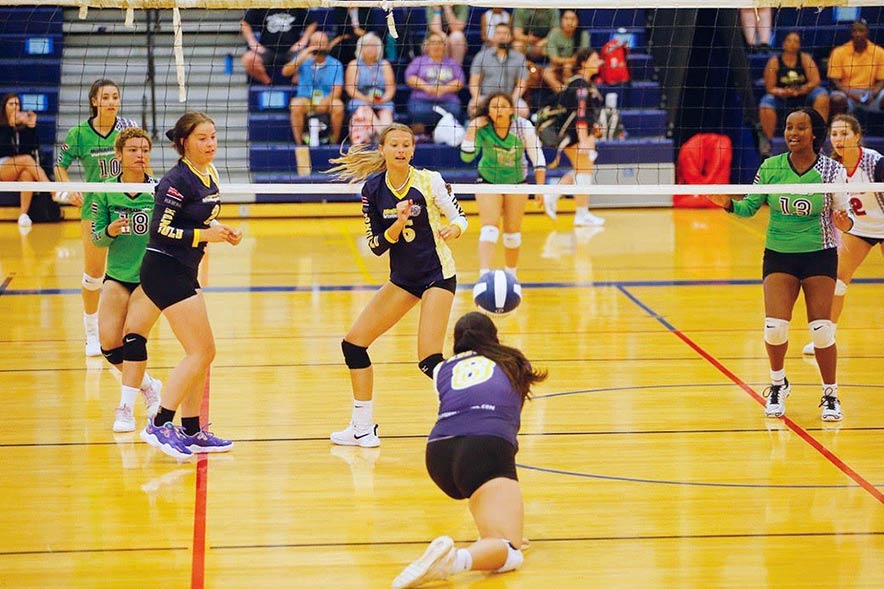 CHINLE
Earlier in July, 5-11 Melanie Kescoli represented the Navajo Nation when she played in the 23rd annual No Ka 'Oi Volleyball Tournament hosted in Honolulu, Hawaii.
"It was very exciting," Kescoli said. "It was a really amazing opportunity to go to a beautiful island. It was at Waikiki Hawaii and the sightseeing was breathtaking.
"We practiced by the beach," she said. "I learned so much more about the sport, like beach volleyball and indoor volleyball."
The tournament selects talented volleyball athletes, mostly high school students, to train with college coaches while showcasing their skills in an elimination tournament.
The goal of the tournament is to get volleyball players exposure, allow them to meet college coaches and give them a taste of what collegiate volleyball is like.
Kescoli is originally from Kayenta but attended Mountain Pointe High in Tempe, Arizona, where she played in the volleyball program this past season during her sophomore year.
She was in JV at the beginning but ended up in varsity and played at state. It was there she was noticed and selected by tournament officials and was mailed an invite.
Kescoli has been playing volleyball since she was six-years-old, saying she enjoys the competition and the satisfaction you get when hitting, passing or serving the ball.
It's a calming sport that helps her to focus and get her energy out.
She usually plays middle hitter or outside, saying her greatest strength is being able to help and support her teammates.
She's also an avid wrestler, a family sport that was taught by her grandfather who was a wrestling coach.
She loves how active it is, how it taught her life lessons and self-defense skills. She was named wrestler of the year for the Navajo Times.
She flew on an airplane for the first time on July 5 and arrived as the tournament began.
Kescoli trained with her team for the first few days, playing with girls from across the United States with her being one of the few Natives in the mix, if any.
Their team was called Mt. Mauna-kea, they stayed together in the same hotel and they all had fun and supported one another.
"My teammates were really awesome," Kescoli said. "They are all from different places in the U.S. They were really skilled and had their own talents which is really fun.
"And all the coaches," she said, "they each coach a volleyball team at either university or at college level. So that was exciting too, that I got to get coached by a college coach. She was from Idaho."
She honed her indoor volleyball skills while also getting he chance to play beach volleyball for the first time, where instead of six players there are only two per team as they play in the sand.
The tournament itself was tough, Kescoli said, she played against athletes who were collegiate potential in their own right and everyone gave a hundred percent.
Kescoli played in the silver bracket and her team won the gold in their category, capping off Kescoli's final day with a big win.
Traveling to Hawaii was fun and she hopes to go again but for now is excited to start her junior year at Monument Valley High as she returns to Kayenta.
She thanks Dennehotso chapter for helping to fund the trip and her family and friends for their support.
"Overall, I would say it was amazing, it was an amazing opportunity," she said. "It was so much fun, getting a new experience from overseas and just playing with a lot of competitive girls. It was kind of like a whole other level from playing on the reservation."
---