In roller-coaster season, Shiprock nails Aztec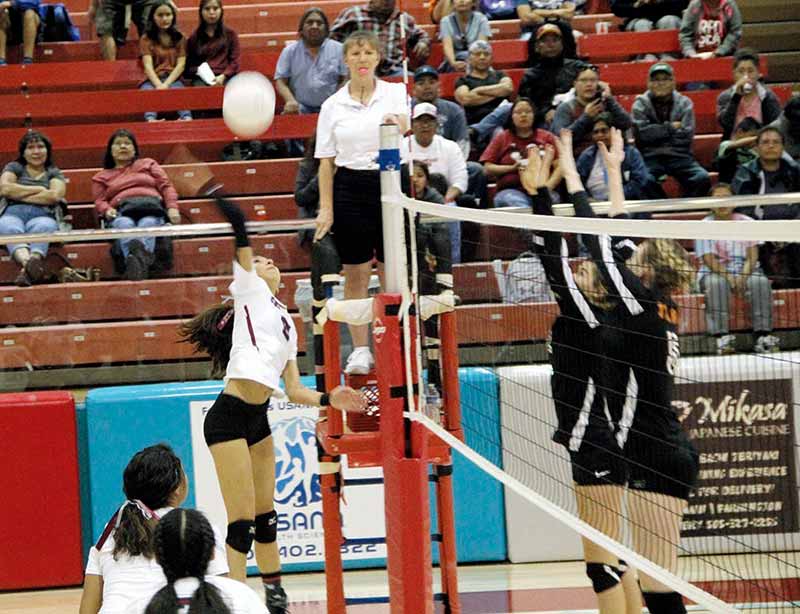 SHIPROCK
All season long, the Shiprock volleyball team wasn't quite sure if they would mix well.
The makeup of the team includes underclassmen mixed with a handful of veterans. They've had a hard time mixing on the court but that changed Tuesday night when they defeated Aztec in a non-district match 3-0 with set scores of 25-20, 25-19, and 25-22.
Shiprock head coach Teri Atcitty said her team finally realized they are capable of playing as a unit.
"It's to let them know they can work as team," she said. "And also that they're capable of being smart on the court."
It's been a struggle that led to a roller-coaster ride of a season.
At the start of the match it looked like another down ride for the Chieftains as they came out strong but let Aztec catch up.
Shiprock had at least a 10-point lead before letting their mistakes catch up with them.
"We were just trying to figure out how to work as a team because we have a lot of young ones coming in as freshman and a lot of my returning, and having them mesh together," Atcitty said.
The two teams tied more than once in the first set before Shiprock closed in for the 25-20 win.
In the second set, Shiprock took advantage of some of Aztec's mistakes to pull ahead.
The Lady Chieftains went on two runs to close the set – a 4-0 run followed by a 5-0 run to put them ahead 23-16. Aztec chipped at the score but ran out of time and opportunities. Shiprock closed the second set 25-19.
Atcitty said her youngsters stepped up for the second set win, especially Evette Lansing who helped at the net and put down some kills.
"She's young but speed we're working on and getting her to be knowledgeable on the court," Atcitty said. "She does have coverage, she can work that net and hit hard, she just doesn't want to hit anyone, she's learning to be aggressive."
In the final set, Aztec had the upper hand.
---