Matadors pelt Centennial for the championship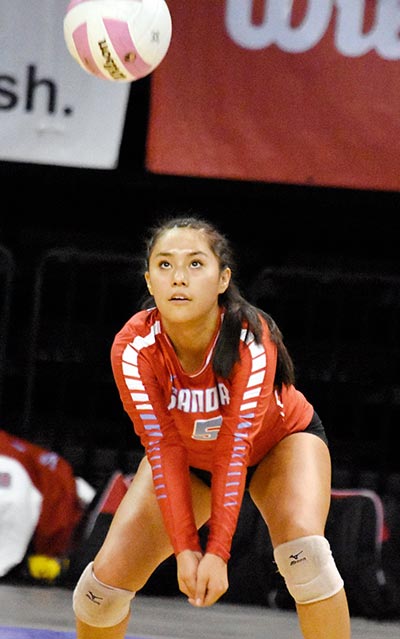 RIO RANCHO
Nakooma Pelt does everything she can to help her team.
Whether it's her club volleyball team, the national team she gets invited to play with, or her high school team, the Sandia High School Lady Matadors.
This season, as a junior, she helped lead her team to a 9-1 district record and just last weekend to a 6A New Mexico high school state volleyball title. Sandia defeated Las Cruces Centennial 3-2 in sets 25-19, 20-25, 25-16, 17-25, 15-12 in the championship match on Saturday.
The team was down in the fourth set as Pelt, who is Navajo, mentally prepared to help her team finish out strong. She said she was happy to be able to help to team to the state title.
"I was really focusing on trying to focus on my team and what I needed to do to bring them back, and help them to win the game," Pelt said. "It feels amazing, it's so surreal, it hasn't really settled yet. I'm so glad for my team and what we accomplished throughout the season. I think it really helped boost our confidence for next year too."
Sandia entered the state tournament as district runner-up behind rival La Cueva. Sandia had the No. 3 seed and La Cueva the No. 2 seed, with Centennial at at No. 1. Sandia finished first in its pool play and received a bye in the first round.
Sandia met Eldorado in the quarterfinals and defeated them 3-1. They met La Cueva again in the semifinals, and for the sixth time this season. They had a 3-2 record over La Cueva going into the match.
Sandia head coach Khristopher Borland said it is the ultimate test for the team to come against a team they couldn't shake.
"Our girls were just really relaxed and confident," he said. "I feel like they were just really prepared and worked hard."
Pelt said she had to give credit where it was due in the semifinals. She said the seniors carried the team while she did what she could in her role as a libero.
"When it really counted in state, we really wanted to win and beat them," Pelt said. "I think our seniors really helped lead the team. They really wanted to finish our season out strong, and that helped lead everyone else."
---