Naomi Whitehair finds right fit on UTEP volleyball team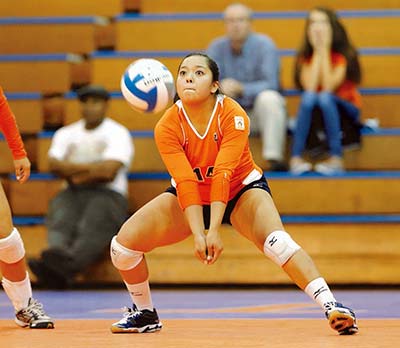 FORT DEFIANCE, Ariz.
University of Texas-El Paso junior defensive specialist Naomi Whitehair has worked hard to get where she is at today.
"I followed my dream," said Whitehair, a 2012 graduate of Monument Valley High School in Kayenta. "Playing NCAA Division I volleyball was a dream of mine. I love playing volleyball. My ultimate goal is getting an education. I want earn my college degree. I want to go home on the Navajo Nation and work as a nurse. A hospital is being built at my hometown of Kayenta. I want to work at the hospital they are building in Kayenta. My parents raised me to be what I am today."
UTEP head coach Holly Watts said Whitehair has done a good job as the Miners continue to improve.
"Naomi works hard every day at practice," she said. "She does a good job at her position as a defensive specialist. She is a very good defender."
Whitehair earn a letter as a sophomore transfer last year. After graduating from Monument Valley, she played one year at New Mexico Military Institute in Roswell, where she was a starting defensive specialist.
"I always wanted to attend UTEP," she said. "During my freshman year at NMMI, I thought about playing at UTEP. In high school, attended a volleyball camp at UTEP and I liked the campus and the program. I wanted to be part of the volleyball program."