Gallup girls keep a pack to the finish line, place first at KC meet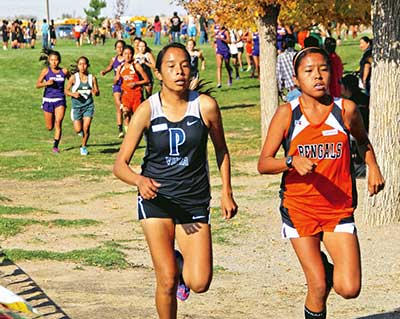 KIRTLAND, N.M.
From the moment the Gallup High School girl's cross-country team started their season they were focused on "we" and not "I".
At the Kirtland Central High School cross-country meet held on Oct. 24, they ended their regular season in that exact same goal when they placed first as a team with 31 points.
Gallup High junior Wyonna Martin led the team in first place and placed first in the overall race with at time of 20:10.44. Martin said while it was her second individual win of the season she was thrilled that she could help her team to a first-place finish.
"It was the last regular meet of the season and we just wanted to run our race," she said. "We just wanted to focus on the team. Come together as a team, run together and stay as a pack and maybe our pack time will come down."
Martin said the team has remained consistent throughout the season and is seeded fourth in Class 5A. She said the team has carried big goals to win a district and state title throughout the season.
She added that when they showed up at the Kirtland meet they looked for others to push them.
"We did have some improvement," Martin said. "We were hoping for competition here, but we know there are good runners out there that are with us, but they're not as strong as a team as we've seen."