Prep volleyball: Alamo Navajo, Pine Hill look to be contenders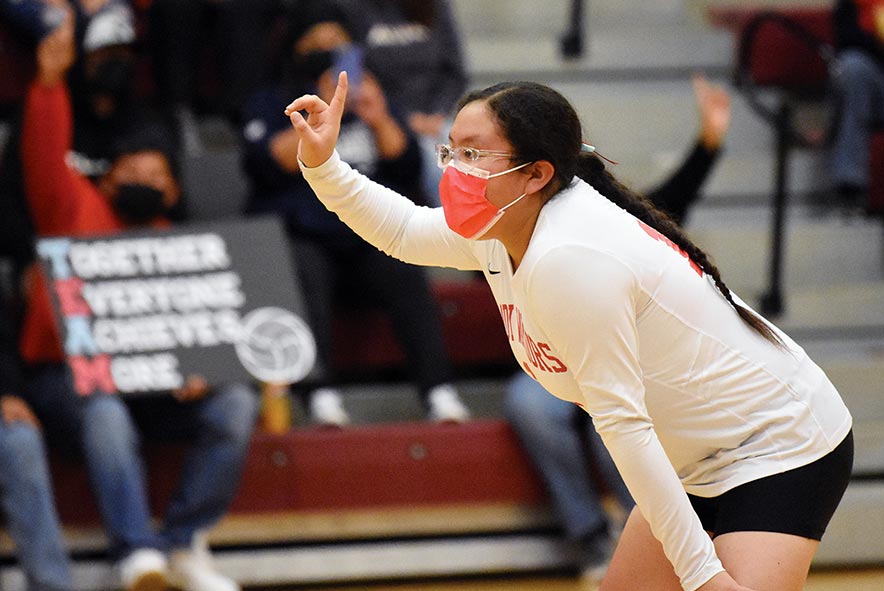 REHOBOTH, N.M.
The prep volleyball season is in full swing and two schools are looking to gain an at-large bid to the New Mexico Class 1A playoffs.
The Pine Hill Lady Warriors and the Alamo Navajo Lady Cougars have ambitious goals of making the playoffs by winning their respective district races.
Both squads participated in the Rehoboth Christian scrimmage on Saturday.
"I feel like we definitely can dominate our district, and get into the state tournament," second-year Alamo coach Danielle Gordon said. "I'm really excited. I mean, we have a ready good group of girls and they're excited too. That is what makes it fun."
The Cougars play in the five-team District 3-1A along with Hondo Valley, Carrizozo, Mountainair and the blended team of Corona and Vaughn.
Pine Hill, meanwhile, competes in District 1-1A with Ramah, Northwest, To'hajiilee and Tsé Yi' Gai.
Due to participation numbers, the district might be dwindled down to only three teams as Tsé Yi' Gai and Northwest are looking to form teams.
Despite that, Pine Hill coach Benelda Cohoe-Belone said winning the district is still going to be a tall task.
"Ramah is our biggest rivals," she said. "It's a game that everyone looks forward to every year. We always seem to trade off with them as district champs."
This is Cohoe-Belone's first season at the helm, but she's familiar with the girls on the team, having served as an assistant to then-coach Carlett Daniels.
"They know me and I know what they're capable of," she said.
Pine Hill graduated four seniors including two impact players in Bailey Nez and Pauline Martinez.
Nonetheless, they return a bevy of veterans for a team that made the playoffs.
The returnees include seniors Tenisha Alonzo (OH) and Alissa John (setter), junior Persayise Martine (OH, setter) and sophomore Layla Johnson (MH).
"We're kind of in a rebuilding year, but we do have some solid returning players," Cohoe-Belone said, while noting that the team strength is creating all-around players.
"It's something we've worked on, and we're gonna continue to do that," she said.
Like the Pine Hill squad, Gordon said her entire team can play any position.
"That's the beauty of this team," the Alamo Navajo coach said. "We have versatile girls that play anywhere."
The consistent hitters, Gordon said, include seniors Koolonna Apachito and Hailey Apachito.
Defensively, the Cougars will rely on senior libero Elliana Guerro while the setting duties will be shared between sophomore Sapphire Sandoval and Koolonna Apachito.
"We actually changed from a 5-1 last year to a 6-2," Gordon said. "It takes a little bit of pressure off the one setter. It gives them a little more breathing room."
With one year under their belt, Gordon is feeling optimistic about the potential of her veteran squad.
"I feel like we can really do well this year," she said. "They're all so excited about the season, and it just pushes them to do better and better for every practice, for every game. They just hustle and kick butt."
In late September the Cougars will be making a return trip to the area to take part in the 16-team Rehoboth Christian Volleyball Invitational.
They are also entered in the Magdalena tournament.
Pine Hill will also take part in the two tournaments along with the Cloudcroft in mid-September.
"We traveled out there last year," Cohoe-Belone aid. "We definitely want to see teams in the eastern part of the state."
---