Thoreau netters remain focused on district season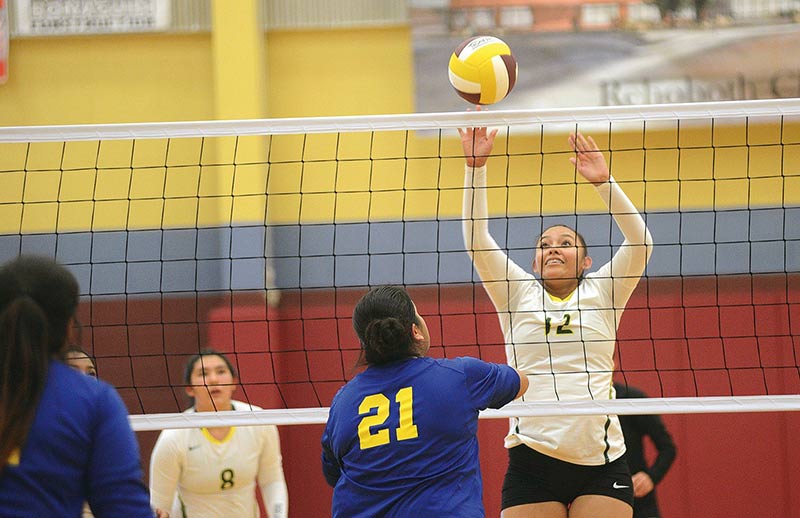 REHOBOTH, N.M.
With each passing day Thoreau volleyball coach Rethania Jake gets a little choked up thinking about her group of seniors.
She has seven of them and she often thinks about what it would be like if she had another year with them.
Those seniors were puppies when she first got the Thoreau head coaching gig three years ago. They include Tara Loretto, Christen Martinez, Tiffany Francisco, Vernisha Marshall, Shareen Morgan, Shavonne Livingston and Stephanie Vandever.
"I got a little emotional before the game," Jake said last Friday night at the Rehoboth Invitational. "They have been with me since I started here so they're a special group."
She's hoping this year's group will get a chance to play well beyond the district tournament next month.
"It's been 12 years since Thoreau has been to state," Jake said. "They won the district title in 2005. I'm hoping they can make it so that when they get older they can walk into the gym with their families and say 'I helped put that banner on the wall.'"
Since the start of the school year, Jake has professed that her team, which includes two freshmen players – Jalena Begay and Adela Sena — is going to do great things. Despite a 2-7 record heading into the Santa Fe Indian School volleyball tournament this weekend she still believes her squad can be a dangerous team.
"I feel like we're still building," she said. "Each match we're working hard and we're getting better. I'm hoping that by the time the district season starts we'll be where we need to be."
---