Area wrestlers have big plans for state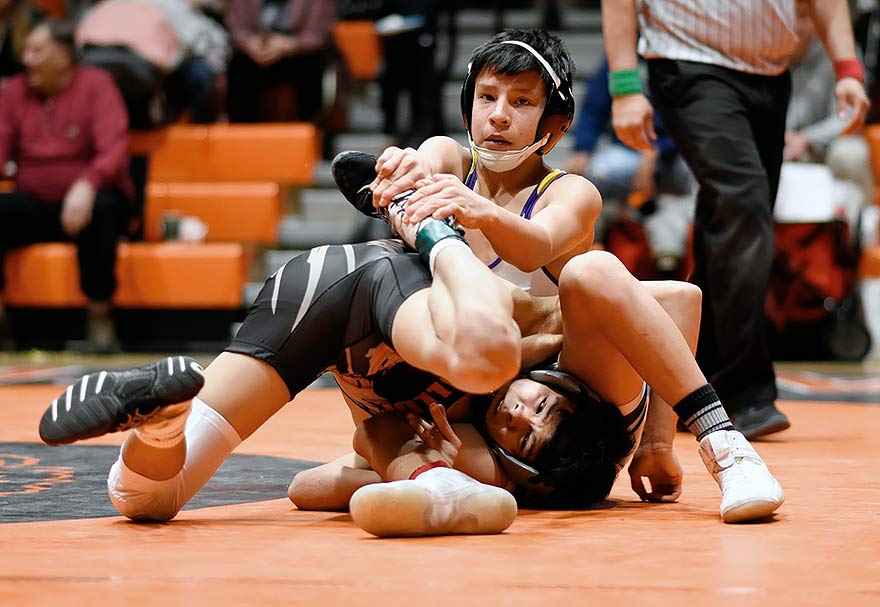 AZTEC, N.M.
A smart decision over the summer put Gallup sophomore Joseph Baca in the position he has long hoped for.
Baca finished as the District 1-4A champion at 113 pounds after defeating Kirtland Central's Matthew Hawkins. Baca won by pin.
The district tournament was held in Aztec over the weekend.
Baca said the offseason work paid off and he was finally able to earn an individual district title.
"I practiced over the summer, I went running every morning," he said. "I needed to get something done because I was lazy over the summer, and I didn't like it. So I made it a goal to run every morning."
He ran every morning and joined soccer in the fall in order to keep his conditioning going.
Baca said it eventually resulted in a good regular season and now a district title, and he hopes it will lead him to a state finish.
"My goal is to place at state this year," he said. "I didn't place last year and I want to make up for that. I just need to stay positive and keep looking forward to what I want, look forward to my goals."
His crosstown competitor and state placer last season, Miyamura's Drake Guerrero, placed first in the 120-pound weight class winning by a 3-2 decision.
Guerrero said it was the perfect way to end the regular season before going to state, especially after being out for just over two months due to an injury.
"I hadn't wrestled since the beginning of December until now," he said. "I was iffy about how my ankle was going to do, but it felt good. It feels great to actually take the championship now. It feels good to end the day with a win."
---