A 'revolution' in education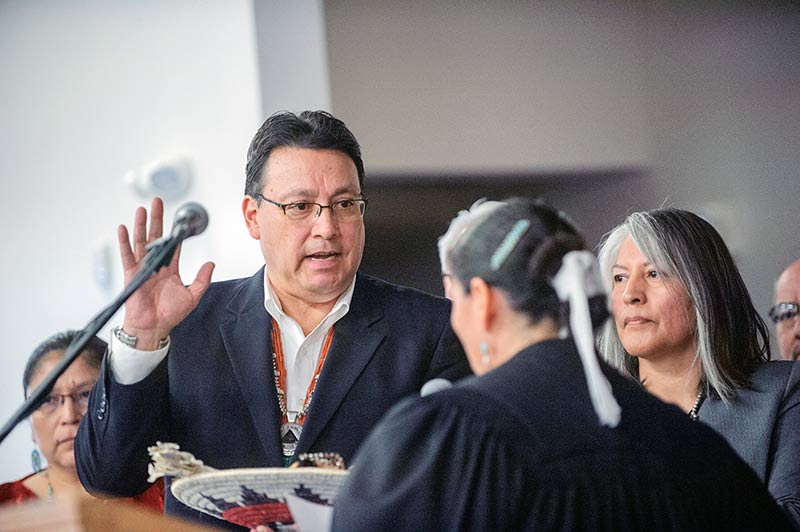 New Diné College president cites parents, past pioneers
TSAILE, Ariz.
When Charles "Monty" Roessel spoke to the audience at his swearing-in ceremony on April 7, the 17th Diné College president reflected on his parents and past pioneers in education who shaped what the institution has become today.
"Our leaders of that time, they had faith in something that was not seen but was felt," said Roessel. "People like my dad, Bob Roessel, people like Ned Hatathli, like Dean Jackson … everyone of those leaders moved the college further."
Praising those who came before him, especially his dad, who served as the college's first president, Monty Roessel described the dream he sees for future students of Diné College.
"A new generation of Navajos are getting ready for college … I'm talking about first graders and kindergarteners," he said. "These students will be one of the 5,000 students who will in 2030 be enrolling in pre-law, so they can enter our Diné College of Law, or one of 25 baccalaureate programs … or our masters, doctorates programs."
Roessel's parents, Bob and Ruth Roessel, were key figures in the inception of the first tribally controlled college in the country, then known as Navajo Community College. Monty Roessel described them and other prominent educators as revolutionaries who sought to not only establish a higher learning institution on the Navajo Nation, but to also have it run by the tribe.
"They created a revolution in Indian education," he said. "Diné College is an example of that idea. This college is one we should be proud of as an institute of higher education but also as a revolutionary idea. This is our revolution to continue."
As the keynote speaker and a family friend of the Roessel's, former Navajo Nation chairman and president Peterson Zah said it was after Diné College began that other tribes followed suit. Being the largest tribe, the Navajo Nation's influence over other tribes throughout the country is obvious.
---