Rogers, partner place seventh in team-roping average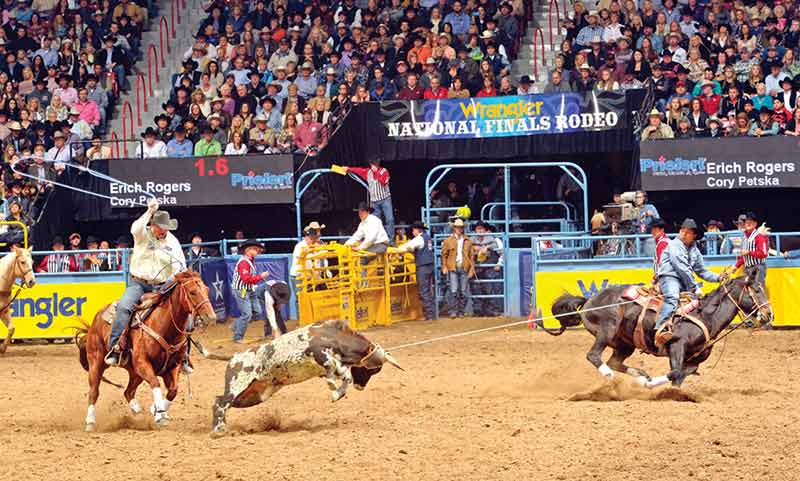 LAS VEGAS, Nev.
The team-roping competition was a hit and miss for the contestants at this year's Wrangler National Finals Rodeo.
Of the 15 teams, Clay Tryan and Jade Corkill were the only ropers to catch all 10 steers while two other teams roped nine draws.
In essence, the rest of team ropers had some problems with a tough pen of steers. Nonetheless, Rough Rock, Ariz., cowboy Erich Rogers placed seventh in the average race with a 73.80 run on eight steers with his partner Cory Petska of Marana, Ariz.
"I was hoping to win a lot bit more and catching more but it is what it is," said Rogers, who pocketed $32,794 at this year's finals to push his year-end total to $134,215 for an eighth place finish in the world standings.
During the 10-day event, Rogers said they weren't drawing well but he put most of the blame on himself.
"I was not doing what I was supposed to do," Rogers said. "Every night we just tried to catch so we had to rope a little more aggressive."
And when they got too aggressive they were assessed a penalty. Nevertheless, both ropers earned a second place check of $15,018 in the seventh round with the 3.9 run they produced.
"It feels good to get a check," Rogers said. "I wished that we could won a little bit more but we'll take that."
In that round, the team-roping combo of Cut Bank, Mont., cowboy Dustin Bird and Lonedell, Mo., Paul Eaves topped the 3.9 run turned in by Rogers and Petska.
The winning pair posted a 3.7 run and earned their second go-round buckle at the WNFR.
"I got a good start and things happened so fast," the Blackfeet tribal member said of their run. "We're out of the average, so we have no choice but to win as much as we can in the rounds. That's how we roll anyway."