Faces of the lost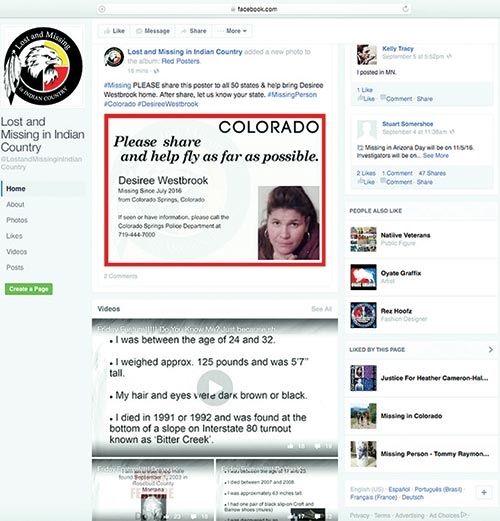 Woman uses Facebook page to crack cold cases
WINDOW ROCK
Daniel Davis. Levi Gooday. "Navajo Joe."
Two of these are Navajo men who went missing years ago, and one is a body that was found in 1981, but never identified.
All kept Janet Franson up at night.
Franson, a retired homicide investigator in Llano, Texas, is the brains behind the Facebook page "Lost and Missing in Indian Country." You might be surprised to learn she's a bilagáana.
"People ask me, 'Why do you do this?'" Franson said in a telephone interview. "It's pretty simple: It needs to be done. Nobody else is doing it. And I know how to do it."
Franson was a homicide detective for 21 years before retiring and moving back to her home state of Wyoming. There, she was tapped by the National Center for Missing and Exploited Children to work on cold cases. From there, she moved to Montana where she found a job with the National Missing and Unidentified Persons System, known in the police community as "NamUs."
There, Franson was shocked by the number of missing people in the country, but more shocked by the racial disparities. Across the country, people of color were far more likely to go missing and not be found.
In Franson's territory, which included nine Northwestern states with a total of 40 Native American reservations, many of the missing and unidentified found — by far the most per capita — were Native Americans.
"When you start looking at the numbers," she said, "it's a huge disparity."
The one that got to her the most was the body she started calling "Navajo Joe."
"Navajo Joe" was a Native American man found in Nebraska in an area where a Navajo railroad track crew had been working. His body was discovered in 1981, but nobody has ever come to claim him.
"He belongs to somebody," said Franson. "That was a person who went to work and never came home."
---