'Hooyah!': Crownpoint native 'molded' by community aboard USS George Washington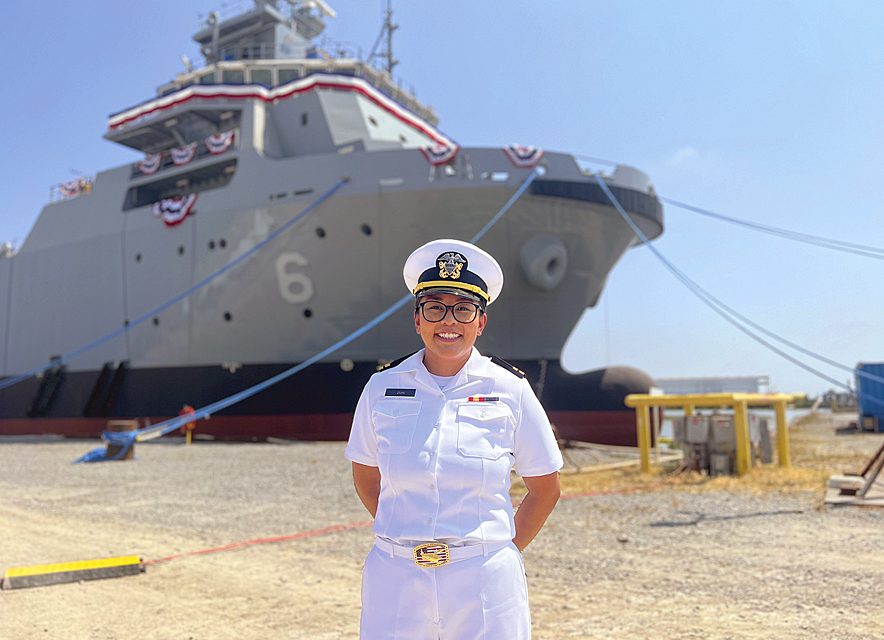 HOUMA, La. – She's a command clinical psychologist responsible for about 3,000 U.S. Navy sailors.
U.S. Navy Lt. Kellylynn Zuni of the Military Sealift Command provides sailors – some who are Diné – aboard the USS George Washington with the support and guidance they need to maintain positive mental health and be their best selves.
The USS George Washington is the sixth Nimitz-class nuclear-powered aircraft carrier named in honor of the first president of the U.S.
Zuni, who is Diné, said GW (CVN 73) is the Navy's finest and strongest carrier in its fleet, homeported in Naval Station Norfolk, Virginia. She is the only psychologist on the CVN 73. At short notice, her command supported her in letting her attend the USNS Navajo christening at Bollinger Shipyards on Aug. 26, in Houma.
"It felt like a hot day at the flea market," Zuni said after the ceremony. "I remind myself every day of the privilege I get to serve and (the) sacrifices our people have endured."
Zuni is from Crownpoint and attended Wingate High. She earned a dual bachelor's from Adams State University and a master's and a doctorate in clinical psychology from Palo Alto University.
She is the daughter of Tonilee Becenti. She is Tsi'naajinii and born for Tó Baazhní'ázhí. Her maternal grandfather is Tó'aheedlíinii, and her paternal grandfather is Haltsooí Dine'é.
Read the full story in the Aug. 31 edition of the Navajo Times.
---