Eastern Navajo Agency Council discusses issues facing 31 chapters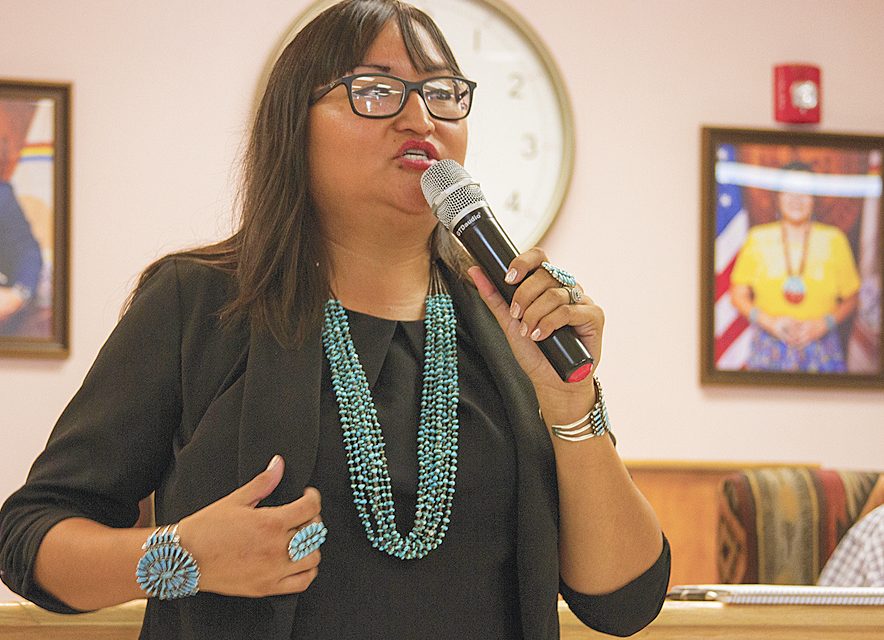 WHITE ROCK, N.M. – The Navajo Eastern Agency Council convened on Aug. 26 at the White Rock Chapter for the regular quarterly meeting for all 31 chapters that belong to the Eastern Agency.
After the roll call and confirming a quorum for the meeting, the agency council welcomed and introduced guests to the meeting before the agenda was adopted to begin receiving reports from leadership.
The president's office was the first to report, and executive staff assistant Melinda Arviso-Ciocco, who represented the president, began the update by noting that the president and vice president were both unavailable to attend the meeting because of scheduled responsibilities: Central Navajo Nation Fair and the Ramah Navajo Nation Fair parades.
Ciocco said the president's office worked with the Navajo Housing Authority and other housing providers to host the NHA Fair June 27-28. She said the office plans additional housing events for the Western Navajo and Northern Navajo agencies.
"We're aware of the needs for housing, and we received a lot of surveys back from attendees," she said. "There was 1,500 people who attended the event."
Ciocco then reported that the president's office is addressing the impacts of uranium mining across the Navajo Nation and said 523 sites across Navajoland are in immediate need of remediation.
The president's office will meet with the Nuclear Regulatory Commission this week to review the Navajo EPA 10-year plan and the Radiation Exposure and Compensation Act amendments coming this week from the Council and the president.
She said the Nygren Administration is also working with the Missing and Murdered Indigenous Women and Relatives initiative and the Navajo Division of Public Safety through various meetings on the subject.
"As a mother, please take care of your kids. Watch them carefully," she said.
Ciocco said the president's office is also working with the Eastern Agency Land Board members regarding the 20-year management plan and the Mariano Lake blockade. She also announced that she was appointed the Eastern Navajo Agency representative for the president.
Read the full story in the Aug. 31 edition of the Navajo Times.
---