From 'humble beginnings' Central Agency continues spelling bee tradition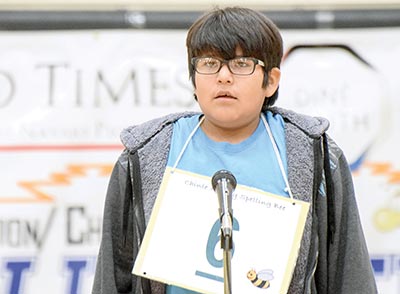 CHINLE
Middle English words like "alive," "active," "branch" and "center" are fairly easy for Pinon Elementary student Charles Padolina to spell.
During the Navajo Times' Central Agency Spelling Bee last Wednesday, Padolina spelled correctly, and prevailed, in just eight rounds against seven of his peers whose grade levels ranged from first-third. His championship word was "cloudy," nabbing him a trophy, a pullover, and a bumblebee bag of goodies.
"I like spelling because it's fun and easy," Padolina said after his win. The third-grader has to wait until next year for his chance to participate in the coveted Scripps National Spelling Bee, one of the nation's oldest and most iconic spelling bee competitions now in its 90th year.
Eleven schools participated in last year's spelling bee in Pinon, Arizona. This year, however, only three schools participated: Pinon Accelerated Middle, Pinon Elementary, and Tsaile Public.
Payton Tacheene from Pinon Elementary will have a crack at the Times' Navajo Nation Spelling Bee on March 16 in Shiprock. She was declared fourth grade champion after 11 rounds, in which she misspelled "croon" during round one, "muskrat" during round three, and "aspen" during round six. Her championship word was "fence."
Jewelianna Lander from Tsaile Public was declared first runner-up. Tacheene and Lander both agreed that words bring them joy.
---