Shonto sports Civil Air Patrol's newest escadrille in Ariz.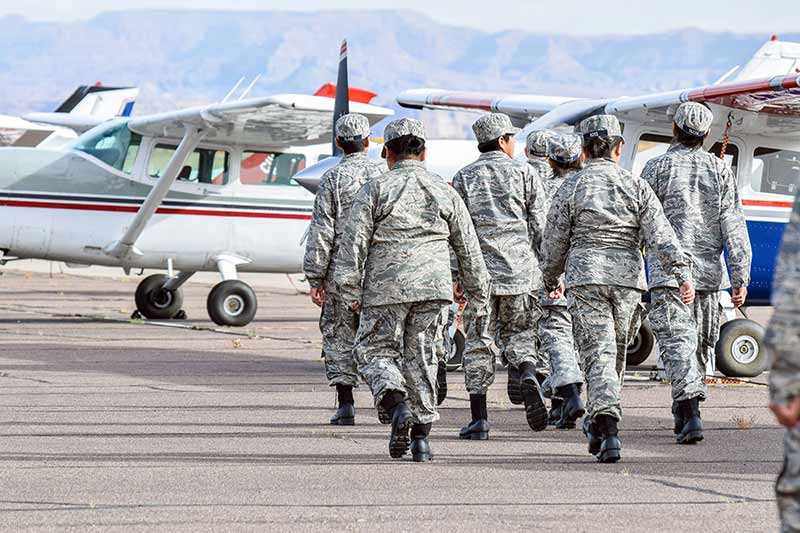 PAGE, Ariz.
The newest members of the Arizona Wing Civil Air Patrol are learning the U.S. Army's seven core values and learning to live them in everything they do – whether they are in school or doing household chores.
Those core values are loyalty, duty, respect, selfless service, honor, integrity and personal courage. These values are what being a soldier is all about and members of the Navajo Code Talker Bahe Ketchum Composite Squadron 211 in Shonto, Arizona, are soaking them up.
"Excellence in everything you do," said 2nd Lt. Frederick Fout, the squadron commander and the principal at Shonto Preparatory K-8 School. "So, even if you're chopping wood for grandma, you do it the best you can. Those are some of the things we talk about." But what does it look like to be excellent? asks Fout. And what does respect look like? "That's the big thing about learning the customs and courtesy of being in a military," explained Fout, who is a member of the U.S. Army Reserves. "You learn about giving that respect … and that it is a two-way street."
The Bahe Ketchum squadron is the newest escadrille of the Arizona Wing Civil Air Patrol, an auxiliary of the U.S. Air Force headquartered at Luke Air Force Base in Glendale, Arizona.
The National Headquarters CAP at Maxwell Air Force Base in Montgomery, Alabama, in October approved the new squadron, which was named after the late Code Talker Bahe Ketchum who died on June 8, 2015. Ketchum resided in Naatsis'áán-Rainbow City, Utah.
---