'They are angels': Phoenix veterans go the extra mile for Navajo veterans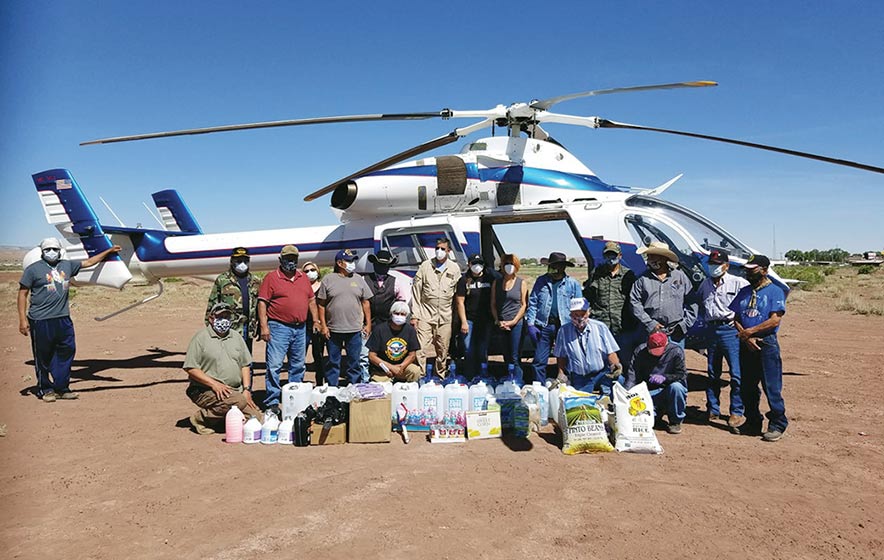 PHOENIX
What began as a small, grassroots COVID-19 relief effort by military veterans in Phoenix, who gathered donations and delivered groceries to veterans on Navajo, has now grown into a major collaboration with the Barry and Peggy Goldwater Foundation.
Led by Tom Eisiminger and Bob Dalpe of the Veterans Medical Leadership Council, the group has now delivered over $150,000 in goods and services to help Navajo veterans and their survivors during the pandemic.
This includes deliveries of hundreds of 300-gallon water totes, sanitizer and cleaning supplies, personal protective equipment and chainsaws for harvesting wood.
"I'm a veteran of the U.S. army, 26 years," said Eisiminger, president of the leadership council. "It's one of those things — when you see your brothers and sisters in trouble, you roll up your sleeves and you do what you can to help."
Both Eisiminger and Dalpe are members of the Arizona Veterans Hall of Fame, a select group recognized for their work to benefit veterans.
"For me, after I retired from the Army, this is my purpose in life — giving back to those who I served with," said Eisiminger.
Dalpe, a U.S. Air Force veteran, says serving his fellow veterans is his passion.
"I do it 'cause it's the right thing to do," said Dalpe. "It makes me feel good, like the work that we do is useful and productive."
While the leadership council has branched out to humanitarian relief during the pandemic, its mission is to ensure the health and welfare of Arizona veterans and provide a financial safety net for those who might be "falling through the cracks" or unable to pay bills due to hardship, said Eisiminger.
"If a veteran finds themselves in a situation where they might lose their home, for example, or be evicted, we'll help," he said.
Eisiminger said when he and Dalpe saw early on how hard the pandemic was impacting the Navajo Nation, they felt a duty to step up and started raising money through social media, friends, family and other veterans groups.
By the recommendation of Hope MacDonald-Lonetree, daughter of Peter MacDonald, president of the Navajo Code Talker Association, their donations and direct relief were initially focused on the Chinle Agency, hardest hit by the pandemic, and now they have expanded their efforts to Monument Valley and Hopi.
"We all sacrificed a part of our lives to protect this country," said Dalpe. "It doesn't matter where you're from or who you are, as the saying goes, 'all gave some and some gave all,' so we still have that responsibility to each other to make sure we have decent lives."
'A blessing'
Central Agency Navajo Veterans Organization Commander Pete Tsinnijinnie says that Eisiminger and Dalpe filled a gap when no one else would.
Last spring, the leadership council supplied chainsaws to Chinle Chapter so that veterans who use firewood to heat their homes and cook could sustain themselves, he said.
"They literally came to our rescue and we are most grateful," said Tsinnijinnie. "At a time when it seemed like the world was falling apart, here total strangers from Phoenix responded to our call, without any questions asked."
Eisiminger says that's just how veterans are.
"When we know somebody's in trouble, especially another veteran, we roll up our sleeves and run to help them," he said.
To date, truckloads and helicopters full of additional supplies, including over 200 300-gallon water totes and mounds of PPE have arrived in Chinle through their efforts, said Tsinnijinnie.
"They are a blessing," he said. "They are angels. These guys did what the Navajo Nation and the Veteran's Administration should have done."
Eisiminger said prior to the pandemic he didn't know how dire the water situation was on Navajo or that 30% of the population lives without running water.
"I didn't know the lengths and challenges people face in getting water," he said. "It was eye-opening."
Now their relief group especially aims to serve those in the most remote areas.
The transportation services for the "missions" to Navajo have been donated through MD Helicopter and Jack Travis Trucking, said Eisiminger.
"We have a helicopter company that's willing to help us," he said. "The aircraft can get into some of the most inaccessible areas."
Dalpe says what distinguishes their effort is the willingness to go the extra to reach people, literally and figuratively.
"I'm the guy that knows the guy who knows the guy," said Dalpe. "If someone needs help, I don't know all the answers, but I know who does."
'A love of Navajo'
The leadership council's willingness to "rally the troops" to help out Navajo veterans in need recently caught the attention of the Barry and Peggy Goldwater Foundation that promptly asked to partner up with their relief efforts.
"They asked to join us," said Dalpe. "It's a big deal. It happened so fast. I feel extremely honored to be part of this."
The mission of the new collaboration has broadened to serve the underserved and "improve the lives of Native Americans throughout the Southwest."
"They actually came to us because Senator Goldwater used to fly supplies up to Navajo during the winter," said Eisiminger. "He was a retired Air Force general, a pilot, and had a love of the Navajo. It sounded like a great fit."
Now the leadership council's fundraising efforts will be managed through the "Native American Relief for Humanity Coalition" under the umbrella of the Goldwater Foundation.
"We're getting so many donations that we're now forming a separate non-profit 501(c)3," said Eisiminger. "Something that started with a personal donation of $800 worth of groceries has turned into a big sustainability project."
While veterans are accustomed to dealing with uncertainty and change, he said, the COVID-19 crisis has brought a whole new level of that for everyone and many veterans need help.
Eisiminger, who is also a medical sales professional, said prior to the pandemic he used to travel nationally four days a week.
"That stopped for me," he said. "Like everyone else, I had to start doing everything through Zoom meetings and phone calls."
He said the Navajo relief effort has given him an outlet and an opportunity to redirect his energy, which he is grateful for.
"It's been therapeutic for me in a lot of ways," said Eisiminger.
He believes the needs for veterans impacted by the pandemic are just going to continue to grow in coming months, so their work has really just begun.
Eisiminger encourages those who wish to volunteer, donate, or need support to contact him directly.
Information: tom.eisiminger@regenesisbio.com, www.arizonavmlc.org or www.goldwaterfoundation.org
---