Contestants struggle with tough parts of Miss Navajo pageant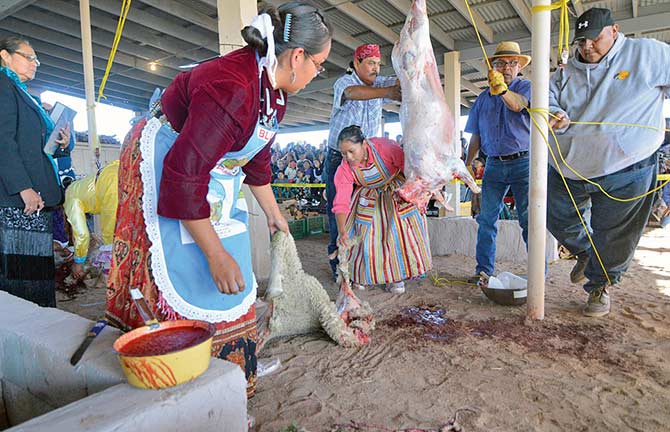 One of the toughest components of the Miss Navajo Nation pageant is the sheep butchering and frybread-making contests, which officially launched the 2014-15 competition Wednesday morning.
The butchering is typically stressful for contestants since the public is involved and offers critiques as to how the women should properly harvest a sheep. There are also regional differences and teachings of what sheep represent and mean to the Navajo way of life.
Contestant Ronda Joe, for instance, had trouble answering a question in Navajo when she was asked to describe what part of the sheep is known as ákíz, collectively known as the backbone, thigh and ribs.
Instead of directly answering the question, Joe, in her limited Navajo, said that she didn't know what ákíz was and deflected the question by telling jokes in an effort to generate public applause.
"Dooshílbaahazindá," Joe said in Navajo, while laughing.
When reigning 2013-14 Miss Navajo Nation Natasha Hardy asked the crowd for the answer to Joe's question, Maybell Bitsilly, of Mariano Lake, N.M., also had trouble answering.
View a slideshow of the competition: