Fashion show featuring Diné designers creates sparks during IPCC's Drum Fire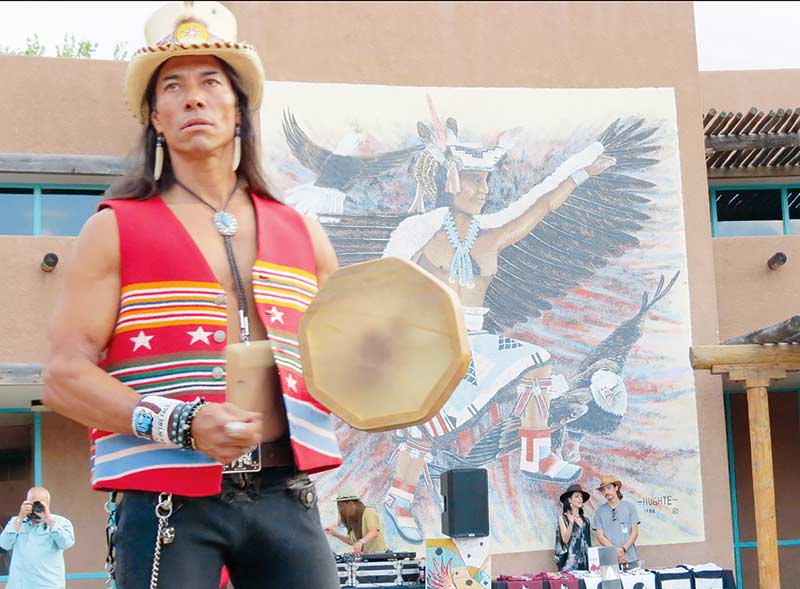 ALBUQUERQUE
The Indian Pueblo Cultural Center rolled out a welcome mat through social media recently in its ongoing efforts to make the center a top destination spot for local and international visitors.
Partnering with Yelp, a social media group, the center sent out online invitations to Drum Fire, which took place on the evening of July 19.
The over-21 event included a traditional and contemporary mix of drinks, foods, music, dance, and art, along with a spectacular outdoor fashion show that featured the work of Native fashion designers Penny Singer, Diné, and Jolonzo Goldtooth, Diné.
"There's a large community of (yelpers). We hope tonight will be their first positive introduction to (Native) culture and history" said Travis Suazo, Laguna/Acoma/Taos, IPCC's cultural and community engagement manager.
The event that was set up in the plaza with sofas and overstuffed chairs clustered together on one end, a cash bar next to it and a runway for the fashion show on the other side of the traditional dance space.
Hundreds of people came out for the event.
One of them was Eric Nelson from Albuquerque who made it a point to attend Drum Fire after seeing it advertised on Yelp.
"If I hadn't of Yelped, I wouldn't have known about this," he said.
For Shannon Ajayi, who's originally from Santa Fe, and her husband, who's from Nigeria, it was their first time at the cultural center.
"I wanted to introduce my husband to our Native cultures," she said adding that she appreciated that the cultural center reached out with an invitation online.
---