Diné ultrarunner Greg Secatero beats the odds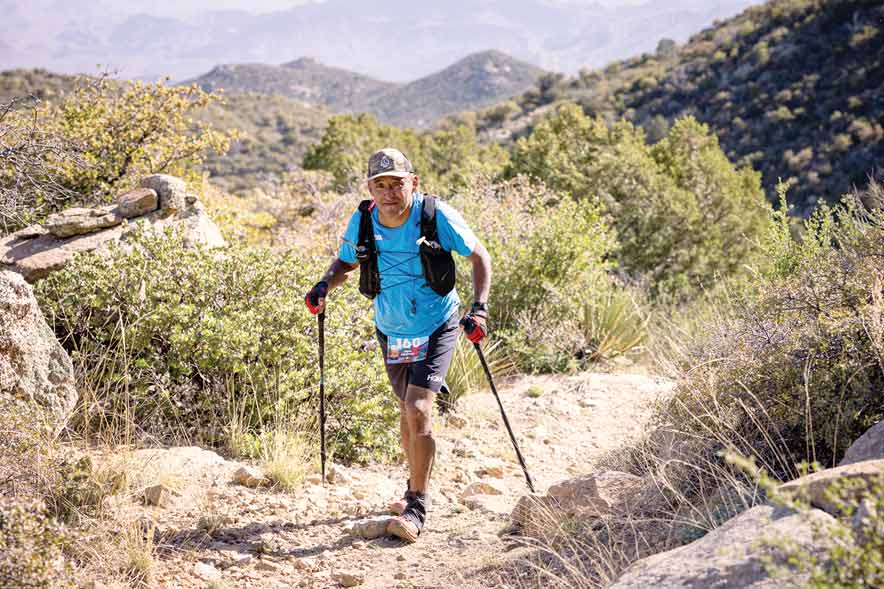 By Ethan Liebross
For the Navajo Times
FLAGSTAFF
Diving under branches, wading through knee-deep water, navigating pitch-black darkness—all while running a 250-mile race.
From Monday, May 1, to early Saturday, May 6, Greg Secatero did just that, becoming one of the only Navajos to finish the Cocodona 250. The grueling footrace snakes from Black Canyon City up to Flagstaff, traversing desert, mountain, and backroad.
With 40,000 feet of elevation gain, a max altitude of 9,000 feet, and a cutoff time of 125 hours, this race is not for the faint of heart. Of the 191 runners who began the race, only 137 finished.
Greg grew up in Alamo, New Mexico, sleeping on dirt floors and herding sheep with his grandmother. As a young boy, he could be found hauling water or feeding cattle with his uncle. At around 6 years old, he started going to school. While all the other young boys and girls knew English, Greg did not.
"A lot of being who I am, I owe to my grandmother," Greg said. "I never saw her get angry or mad."
After high school, Greg enlisted in the military, based out of Fort Knox, Kentucky. His training included marching tens of miles with backpacks carrying 45 pounds, navigating wilderness with topo maps, and sleeping overnight in ice-cold running streams. After the military, for three years, he worked as a Navajo Police officer. Today, Greg, who lives in Kayenta, is the Navajo Department of Criminal Investigation captain.
Read the full story in the May 18 edition of the Navajo Times.
---