Eat well, exercise and pray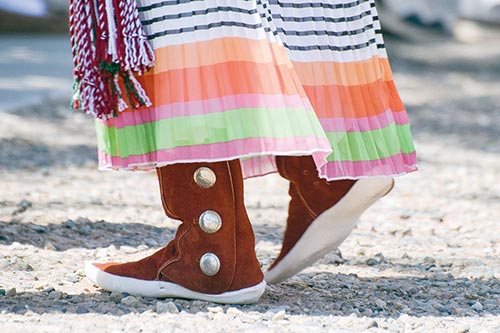 Diné elders give advice for living long and healthy lives
LECHEE, Ariz.
A long healthy life is no accident, says Rex Lane, an 89-year-old Diné man who has adopted a lifestyle of daily exercise, eating greens, and getting enough rest.
"Eat a lot of wheat bread," Lane said as he did an Uttanasana, a forward bending pose. "And white flour is no good, white rice is not good. Eat a lot of wheat bread and a lot of brown rice.
"Vegetable is good, and fruits – those foods are good for us," he added.
Dozens of older men and women from nearby senior centers attended Elder Day at LeChee Senior Center on Aug. 18. None of the spry attendees said they exercise in the way one might think of it, like spending half an hour on a treadmill. The secret of longevity, they say, is simply physical activity – herding sheep, maintaining livestock, cleaning the house, dancing – and eating traditional food. And prayer – lots of it.
"Pray," said Susie Luther, a cheery 68-year-old from Ts'ahbiikin, Arizona, in an interview in Navajo, "in the morning, in the afternoon, and in the evening – the sun's daily path.
"Cornmeal was used at prayer time in the old days," Luther explained. "One sprinkled white cornmeal during prayer at dawn, corn pollen at noon, and yellow cornmeal at sunset." That is the secret of longevity, said Luther. But that is a tradition that is almost no longer being practiced today.
"No one prays," Luther said. "No one is practicing it. Prayers are powerful, but our people don't pray."
---