Preventing diabetes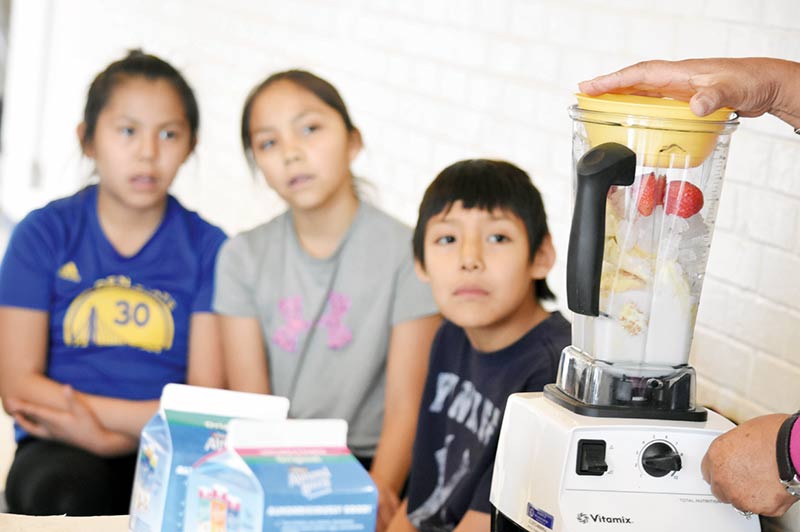 Winter basketball camp focuses on health
FORT DEFIANCE
The Window Rock High School Field House was buzzing with the energy of 15 children as they transitioned from one health education session to the next recently.
A group of about six were sitting in a half circle learning how to make healthy fruit smoothies from a plant-based milk, oranges, bananas and strawberries.
"These are natural energy drinks," said Darwin Mitchell, who organized the Health and Wellness Boys & Girls Winter Basketball Camp hosted by Navajo Nation Special Diabetes Project and Navajo Department of Health.
"We tried to implement a lot of the health and fitness, sports nutrition," said Mitchell, the recreational specialist for the Navajo Nation Special Diabetes Project. "A lot of our athletes don't eat right and they think they can preform at the highest. So, we're trying to change that around."
The three-day event was half basketball camp and half health presentations. The presenters focused on everything from diabetes prevention to substance abuse prevention.
"They can prevent it now," he said. "Kids have diabetes and it's not getting any better."
Diabetes is the fourth leading cause of death for Navajos and accounted for 8 percent of all deaths from 2006 to 2013. The goal of the annual program was to engage young people in physical activity as well as giving them the tools to live a healthy life.
"Compared to back in the day, when we were independent, we didn't have everything given to us," Mitchell said. "(No) internet, phones, texting but we were out riding bikes. We were out running around. We were walking to school."
This is why Mitchell continues to do the work that he does. A couple of the young people he worked with, Keshaun Williams and Anthony Hale, are now in college but still help with the camps when they can.
"I just wanted to help out these little kids," said Williams, who volunteers his time for the camp. "It's always good to have a coach and have role models you can look up to. And learn from."
Williams was four years old when he first started coming to the field house for the different camps and basketball tournaments.
"I know Darwin because he's always having all these basketball camps and these events," Williams said. "I usually used to participate and now that I'm older he asks me to help out. I don't mind because I really do like teaching little kids."
Williams is 19 years old and a 2017 graduate of Window Rock High School. He will be starting his first semester at Mesa Community College in Mesa, Arizona, this coming spring semester.
"I just hope that everything they learn here they'll remember it and use it in their life," Williams said.
Another Window Rock alum, Anthony Hale spent his winter break from Diné College helping out at the camp as well. He was eight when he went to his first basketball camp at the field house.
"When I was small I saw all these guys, like Kyler (Ashley), helping out at these camps and everything. So, I wanted to follow in his footsteps and help out," Hale said. "I like to help my sister too. Practice with them. So, I thought I'd help out with her friends and everyone else here."
Both Hale's and Williams' little sisters participated in the younger age group of the basketball camp.
The early morning camp session was for children between the ages of nine and 12. The afternoon session was for the older kids who were 13 and up.
---