High school string quartet joins 'Beatles vs. Stones'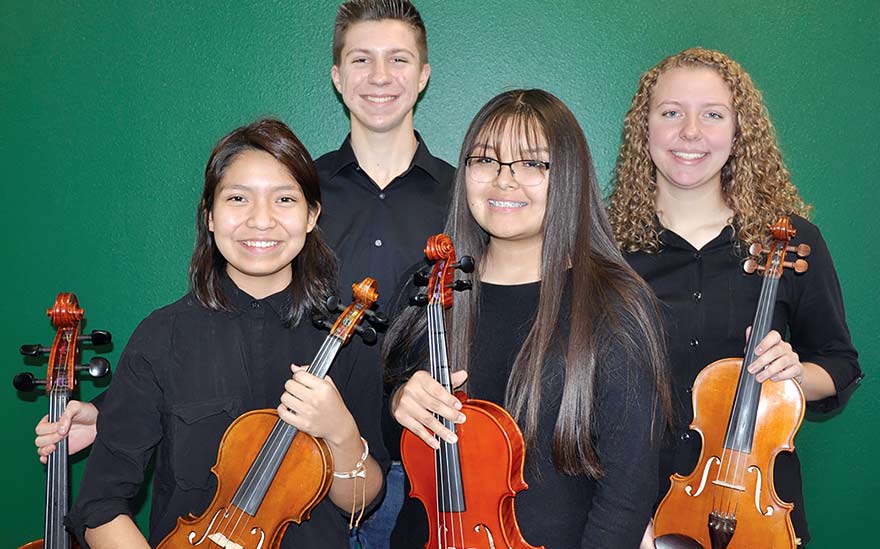 FARMINGTON
When the touring show "Beatles vs. Stones – A Musical Showdown" comes to the Farmington Civic Center next month, the Farmington High string quartet will join the professional musicians on stage.
The string quartet – seniors Karina Farnsworth and Maxwell Taulbee, junior Shia Deale and freshman Caitlin Yazzie – will play with the bands for the songs "Eleanor Rigby," "Yesterday," "A Day in the Life," "Hello Goodbye," "Hey, Jude," "As Tears Go By," and "Ruby Tuesday."
"My favorite Beatles song is 'Hey, Jude' and I'm really excited that we get to perform it in this show," Deale said. The show pits Rolling Stones tribute band Satisfaction against rival Brit boys Abbey Road in an all-out musical showdown for rock dominance.
The producers of "Beatles vs. Stones" asked Farmington High Orchestra Director Monica Leaming for a talented ensemble which could hold their own with a rock band in front of an audience.
Shia Deale, 16, became fascinated by string instruments at a young age and started playing the violin six years ago.
"Finding the message in the music is one of my favorite parts of orchestra," she said.
After graduation the junior hopes to attend The Juilliard School and study music.
---