Christmas on the court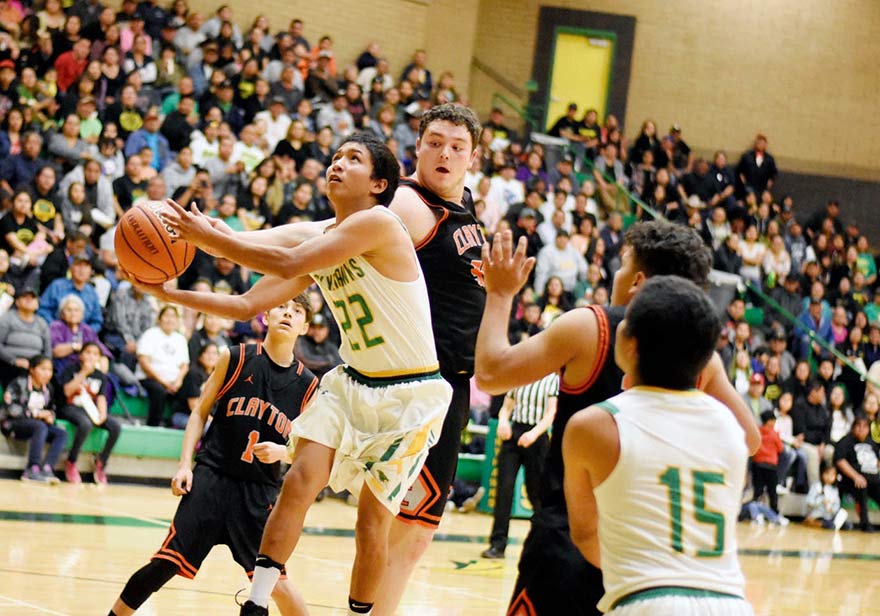 No rest for Newcomb as they eye state trophy
NEWCOMB
While cold silence fills the air in the Four Corners area during winter break, sounds of basketballs kissing the hardwood floor will fill the gymnasium at Newcomb High School.
All 12 members of the Skyhawks boys' basketball team will make the trek to the school's gym, putting in work as if it were a bad habit.
The effort the team puts in over the break is done so they can fulfill a common goal next March.
"We're just trying to get that blue trophy," Newcomb senior guard Jared John said. "We're just trying to get Newcomb on the map as much as we can, so we can't take any days off."
The no-days-off mentality is one the Skyhawks have agreed to. They feel it's the only way they'll put their school on the map.
They have also agreed that the relentless mentality is partially what has given them the strong start to the season with a current record of 7-0. It has also earned them the No. 4 seed in the New Mexico Overtime Sports Center's poll, as of Dec. 17, in Class 2A.
Newcomb head coach Dominique Richardson said for him, the early success is the result of a combination of factors, including determination born due to the heartbreak the team experienced in the playoffs last season when they fell short in the quarterfinals.
"This group is more conditioned than last year. I think last year, how we lost, and the way they played in the summer at these camps helped them conditioned," he said. "It's just knowing that they can play with anybody."
The team only lost two main contributors to graduation last season.
The core returning group is one that has stuck with Richardson since his debut in 2014. Many of them back then were eighth-grade players leading the varsity team.
Richardson said they've come a long way since, and even since the 2017-2018 season.
"A lot of them were here in the summer lifting weighs, getting shots up, working on their game. Just stuff behind the scenes that have carried over," he said. "The shots they missed last year they're making this year. They're strong boxing out, rebounding, guarding; they might not see it but some of us, us coaches do."
Newcomb junior guard Deondre Begay said Richardson has instilled a type of coaching and teaching that the team has learned to adapt to.
He said they've become more disciplined in that they're more aware on the court.
"I never had a coach that taught us like he taught us. The way he was coaching, it's like it's become instinct to me," Begay said. "In practice he tells me what to do, but when it comes to the game, I hear his voice and I can make plays."
---