Diné soccer star Europe bound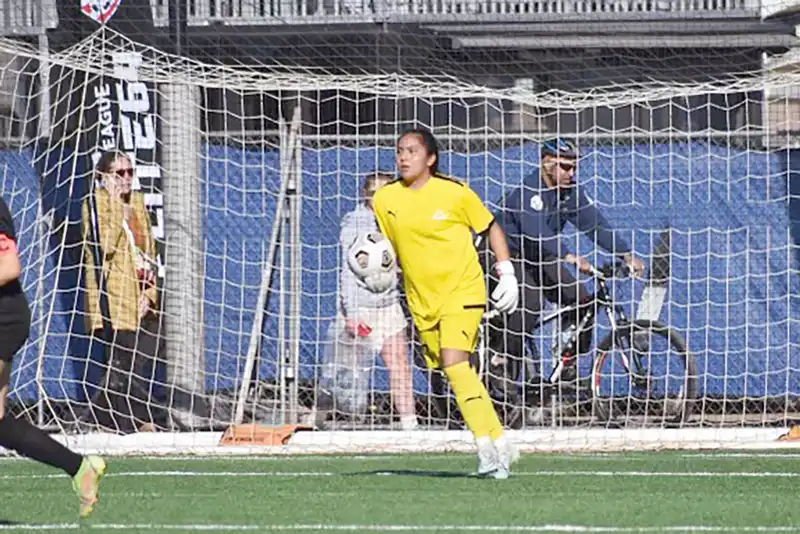 WINDOW ROCK
Miya Begay is a star player on the soccer field, playing for the top teams in Utah and the United States. This past season, her team was allowed to travel to Spain and participate in the Barcelona Girls Cup Tournament, and she is hoping to fundraise to help her get there.
Begay is Hashk'ąą Hadzohí (Yucca fruit strung out), born for Tábąąhá (Water's Edge); she is a sophomore attending Copper Hills High in West Jordan, Utah.
For the past four years, she has been part of the Utah Olympic Development Program, which, this past season, brought home the state championship. Her current team is the Utah Avalanche U16 team, part of the Elite 64 league, a premier team that accepts only the best in the nation.
"I just like playing the sport; the passion for soccer just comes natural to me," Begay said. "When I play the sport, it makes me feel more confident about myself, it shows how you can play as a team and to just have fun."
Goalkeeper

Begay is the goalkeeper, but she has the talent to play on the field in the forward, midfield, and left-wing positions.
The Utah Avalanche team went undefeated in the Mesa E64 Showcase in Phoenix and the Florida E64 Showcase in Orlando.
These achievements are what qualified them for the Barcelona Tournament, where they are one of eight teams selected from around the world to play.
Begay's trip would bring her one step closer to living her dreams of playing pro soccer. It would also be her honor to represent the Navajo Nation on a world stage as one of the world's best young female soccer players.
"When I was little, I used to watch professional players, and I would see how they would play in different countries and go all over, and I'd see their achievements," Begay said. "And I think it would be a good experience to play in different countries, too; I always wanted to compete at a higher level."
Utah Avalanche coach Jonas Hartmann said Begay is one of the team's best players. While he had known her for about nine months, he had heard of her before and played against her before she joined his team last summer.
Hartmann says only the best gets on an Elite 64 team and that they needed to be committed on the field – off the field, traveling, training four times a week, and playing soccer.
"Miya is a very serious athlete, she works super hard at training, and I know she works hard at home," Hartmann said. "She's one of the best goalkeepers with her feet that I've seen in a long time."
Soccer knows no bounds
He said having Begay on the team is fantastic; it makes the team feel confident and lets them focus knowing Begay was protecting their goal.
Begay is a happy addition to the team, gelling with her team and having fun, but she can turn serious when it's time to train, which makes her a perfect fit for the team.
He sees her potential, knows her seriousness with the sport, and believes she can make it to college-level soccer, maybe even further if she keeps improving.
"Miya is one of those players that can never get enough of soccer," Hartmann said. "She's super eager to get better and learn and play and you can tell she just enjoys the game and has a great time with it. It's an absolute pleasure to have her on the team."
Begay has been playing soccer since she was 5 and she's a natural athlete who also played softball and basketball but always preferred soccer.
Her love for soccer knows no bounds. In junior high, her family briefly moved to Red Mesa. She was disappointed that her new school didn't offer soccer or any other school on the rez. Her family had to drive her to Durango, Colorado, twice a week so that she could join the closest soccer club that would accept her.
She wants to help spread it across the rez, seeing it as a good sport that kids could get into. More schools like Farmington, Shiprock, and Kirtland High now have a soccer team, but she hopes it will become an everyday sport across the Navajo Nation.
Since then, she has dreamed of playing soccer up to the college level and studying to become a sports instructor. She also hopes to go pro and become a source of inspiration to other native kids. It would all get back to her eventually returning to the rez and becoming a soccer coach.
Her mother, Roxanne, sees the positive impact soccer has on her daughter and believes her becoming a coach would be beneficial not just to her, but also to other kids.
"You can see the whole group and how they became a team and how they became more confident in themselves because of her," Roxanne said. "The way they play their positions, they are more confident in what they're doing."
Begay has already displayed an interest in teaching, helping her teammates and maybe other players from different teams practice specific steps and supporting her friends. The coaches would use Begay as an example when displaying new techniques.
Although she is usually shy, she becomes more energetic and talkative once she's on the field.
Begay has played for about seven different clubs already and has played in Phoenix, Albuquerque, and Denver, with many teams asking her to join.
One of Begay's inspirations was Cristiano Ronaldo, a player who had a humble beginning, being raised by a single mother before making it as a pro soccer player. Begay feels like she could relate, coming from the rez and having to go far to play soccer.
While in Spain, the team will play in the tournament and do some sightseeing, visiting arenas where soccer icons once visited. They'll also take the time to play and connect with a local YMCA and orphanages to teach the youth about the fundamentals of soccer, team spirit, and self-confidence.
"We stand behind her 100%," Roxanne said. "Going to Spain is something that she's dreamed of doing because her favorite player is from Spain. It opens up the doors for her and for coaches and teams to see how she plays. I think her dream of becoming a professional player and doing the things she wants will happen."
Information: Roxie N Damon Begay on Facebook.
---