Diné stationed in Jordan instigates Native American Heritage Month events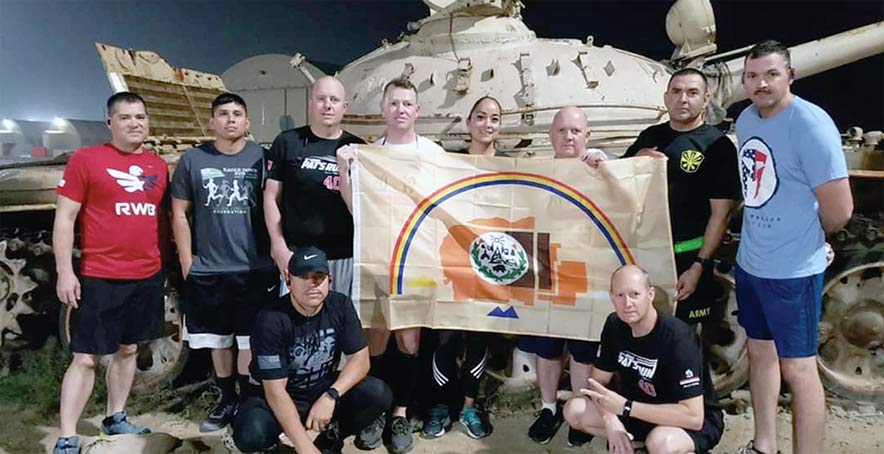 WINDOW ROCK
Americans serving overseas can get plenty lonely. But as the only Native American deployed in the Hashemite Kingdom of Jordan under Special Operations, U.S. Army Spec. Paige Payton Curtiss, Diné/Akimel O'oodham, was feeling even more isolated than most.
When Sgt. 1st Class William Medina, the U.S. Military Equal Opportunity advisor for Jordan, got wind of Curtiss, he reached out to her and advised her to find a way to share her culture with the other troops. November, aka Native American Heritage Month, was the perfect time.
Curtiss reached out to the Navajo Nation president's office to sponsor a 10K run and T-shirts, and Navajo Nation Veterans Affairs also pitched in. "For many tribes, running is our way of life," noted Curtiss in pitching the project to the folks back home.
"This also goes hand in hand with the values of the United States Armed Forces to be physically fit." The offices donated 200 T-shirts, enough to cover Curtiss's unit, the 253rd Engineer Battalion Forward Support Company from the Arizona Army National Guard, who are deployed in Kuwait as well as the troops in Jordan.
"This includes a handful of troops from the Army, Marines, Navy, and Air Force at our location in Jordan," Curtiss wrote in an email. "We had a special route set-up for the safety of the soldiers to be able to participate. The troops ran today with the understanding of why we, as Native Americans, run.
"Running is our way of praying and giving thanks to the Creator." Participants "expressed they ran their hardest today to pay respects for all the fallen Native American Warriors, our standing tribes and for soldiers currently deployed in other parts of the world," wrote Curtiss after the fun run last Tuesday.
Curtiss also got Sgt. Graciela Alvarez, the non-commissioned officer in charge, on board. "Sgt. Alvarez was instrumental in taking on additional responsibilities and missions in order to allow me to step away for planning and facilitating," wrote Curtiss. "As my NCO, she provided guidance, assistance and support throughout this entire process including being at every event to set up and support her soldier."
With that support along with help from the local USO staff, Curtiss was able to organize a series of Native American-themed activities including rug weaving, fry bread night, and a women's fancy shawl dance.
Sgt. 1st Class Shaiyla B. Hakeem, a public affairs specialist for her area, filmed a video of the events that can be viewed at https://www.dvidshub.net/video/723579/soldier-explains-shares-native-american-culture. After it was posted, "a vast amount of support has been given by higher military officials from all United States Armed Forces," wrote Curtiss. She had wondered how well the events would be received by the non-Natives in her unit, but they were a resounding success.
"Soldiers from different ethnicities have been extremely happy to learn and go into each event with an open mind," she reported. In the end, the events not only allowed Curtiss to share her culture with the other soldiers, but upped the troops' morale, she said. "Day by day we get through each mission because of the support from home," she wrote. "This deployment has brought all the men and women in arms together as one family."
---