Montana coach gave women a chance, changed history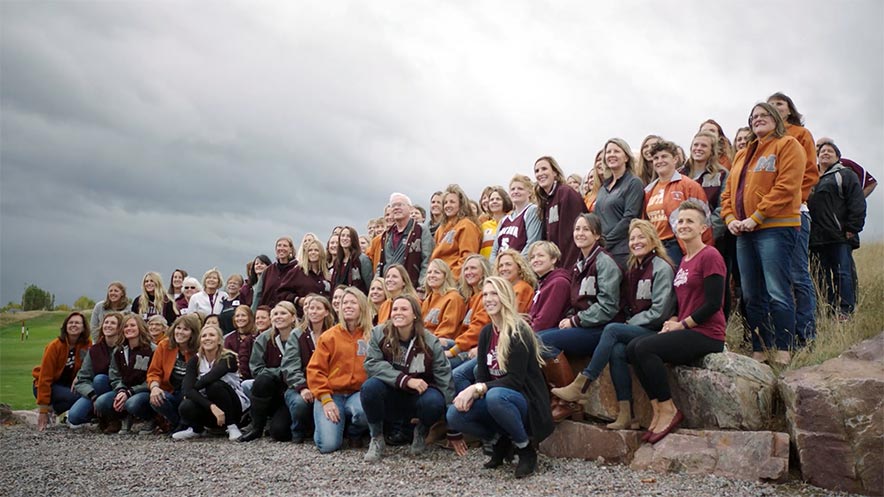 CHINLE
"The House that Rob Built" is a new documentary that was released early in March. It details the 38-year career of Robin "Rob" Selvig, coach of the University of Montana Lady Griz, a team that forever changed women's basketball.
Almost two generations ago, women didn't have the same opportunities as men when it came to collegiate sports. Often underfunded and overlooked, most people paid little mind to women's sports.
But when Selvig started coaching in 1978, Article XI of the Education Amendments Act of 1972 was starting to take effect. The article stated that no one will be denied access, participation, benefits or be subjected to discrimination on the basis of gender while under any educational program or activity receiving federal financial aid.
When Selvig first took the job at the university, there was no weight room for the women, their uniforms were second rate and they played in front of small crowds.
Despite that, Selvig did something new for the time – training women as hard as the men.
Soon the Lady Griz began drawing larger crowds and in turn Selvig started to demand better equipment and gear as they were entitled to under Article XI.
For many years after, the Lady Griz with Selvig in charge marked 865 career wins, were conference champions 24 times, made 21 NCAA appearances and he earned conference coach of the year 21 times.
He was No. 10 of the top 10 winningest coaches in women's basketball history and had 151 Academic All-Conference selections.
'Didn't happen overnight'
"But all those things, it didn't happen overnight," Selvig said. "I don't think it has reached where it needs to be, but we began to get all the things at UM that the men had.
"So it was part of my experience that has been so rewarding is being able to see it grow and be a part of that growth because I was offering scholarships to women that never had that opptunity before," he said.
Selvig grew up in a small town in eastern Montana where the winters were long and one of the few things locals had was sports. He attended and played for UM. He decided to become a coach because he loved basketball.
"Title nine started to become an important factor," Selvig said. "Which certainly makes sense. Like why wouldn't your daughters get the same opportunities as your sons in terms of state universities and stuff?
"And so that helped the growth," he said, "but we took off pretty quick there."
The co-director, producer and writer for the film, Megan Harrington, is a former Lady Griz herself, having graduated from UM in 2000. She grew up in Missoula on the same street as Selvig.
Harrington said, "He was more of a mythical figure that lived down the road, but I definitely knew about him and happened to live close."
Her family was enthusiastic about sports and she started playing basketball in the second grade. In the fourth grade she wrote a poem about the Lady Griz.
The day she got recruited by Selvig was a dream come true for her.
"Rob demanded excellence and he commanded respect," she said. "He had a great sense of humor but there was also a great sense of respect for him and his drive.
"He had the ability to bring out in players things they didn't think they were capable of doing," Harrington said. "He was very fundamental, incredibly strategic."
Harrington worked in the documentary business as an independent producer, often favoring true stories. She was looking for a third movie to make when she was invited to Selvig's retirement party where a huge number of former players showed up.
As they shared their stories, achievements and all that Selvig had done. It was then Harrington knew she had found her next movie.
"It was a lot of extra pressure because everyone was part of it," Harrington said with a laugh. "And when you're a part of it you want it to resonate with those who helped made the story possible, from the players to the coaches and Rob's assistant coaches who spent many years alongside him helping him build this house."
Native American players
One of the segments of the film is dedicated to Native American players that Selvig recruited such as Malia Kipp, the first female Native to play in a Division I school in Montana.
Following in her footsteps was Simarron Schildt from the Blackfeet Tribe.
Schildt said, "Since I grew up on the reservation, basketball has always been a way of life here. It's part of the culture. It was always respected and highly regarded by everybody as a community. So I grew up loving it.
Schildt said it was Kipp who inspired her and other Native girls to go to the next level.
Selvig recalled how busloads of kids would drive from Browning, the heart of the Blackfeet reservation, to Missoula four hours away so that they could watch Kipp play.
Even when the team played out of state, Natives in the area would go to watch the games.
"I learned a lot from my Native kids now," Selvig said. "Both from the film and all the other interviews. I'm still learning from them.
"I don't think I understood what they were going through and how difficult some of the problems they had were," he said. "I like to think I was there for them but the more I learned, maybe I could have been there more for them.
"But I didn't look at them as some special deal," he said, "I saw them as talented young women that are basketball players and I certainly wanted to give them an opportunity and I certainly recognized the talent they had and they all made my life better."
Some of the Native players would be added to the Montana Indian Athletic Hall of Fame. In 2008, coach Selvig was added as one of the few non-Natives archived, credited with helping Native youth achieve recognition for their talent.
Schildt made it her goal to become a Lady Griz as she saw them as one of the best and wanted to continue playing the sport she loved.
On the reservation she was used to the "run-and-gun" method Native kids play. But under Selvig she learned a new, organized method.
"I did it because I love it and because I was inspired and it was a calling within me and I loved the game so deeply that I wanted to keep going," Schildt said.
"Rob had a way of believing in you and because he believed in you," she said, "you wanted to give back to him because he provided so much to me, in recruiting me and I wanted to give something back to him and to the team.
"Now, looking back, there is something about being one of the first (Natives) that takes more energy," she said. "The path isn't formed yet, forming the path takes more and so it's an honor to be able to have contributed to a possible hope for some girl who wants to play in the future."
Loud applause at screening
The film was released in March and was screened to a large crowd in Missoula, home of UM, to loud applause.
"I was blown away by how they captured the essence of what it was like to play for Rob and what it was like to play for the Lady Griz program," Schildt said.
"I think the film really captured the love that was there and it captured the magnetism that Rob had as a coach and how he could inspire players and bring forth things they may not have seen in themselves," she said.
"And I also love that it did show the different aspect of the team," she said. "It kind of told some of the Native story that a lot of people told me after the film, 'I had no idea you were going through that.'
"And what was really cool about that," she said, "during the interview process when we got together to film it for the movie, it was very healing for me to be able to talk to the other three women from my reservation who eventually played for the Lady Griz and that normalized my experience so much because I thought I was the only one who had so many feelings, like I wanted to run home, didn't want to stick with college."
Schildt thought the film captured Rob's heart and spirit as he built a team with strong familiar ties. He especially put an emphasis on their academics.
He made Schildt and other players feel valued as a person and not just a player. Selvig wanted his team to have a bright future after college – basketball was important but it wasn't everything.
Harrington was happy that the move was well received, knowing it would have a special place in the team's heart.
"To be a part of this legacy, to be coached by Rob and to play for the Montana state is something you can't ever describe fully," she said. "I will always be grateful for him taking a chance on me."
That is what almost all the Lady Griz had to say to Selvig when they were interviewed for the movie: Thank you for giving me a chance.
For Selvig, despite the numerous awards, honors and victories, one thing he knows for certain is that he will always cherish the time and bonds he built with his athletes.
"I love them all, Selvig said. "Every player that ever played are very important to me and I guess all I want to say is thank you to all the fans that got involved and who started to love women's sport and for all the people who supported and helped it grow so immensely."
To watch the full story of Selvig and the journey of the Lady Griz, visit the film's official website "The House That Rob Bulilt.com" to see the platforms on which the movie is available.
---