Striking gold: 9-year-old Diné martial arts prodigy winning tournaments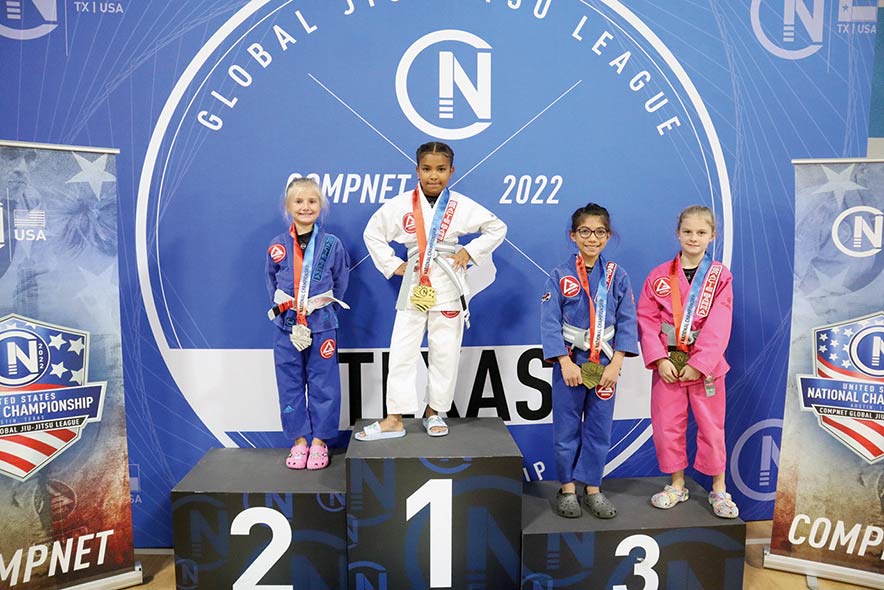 WINDOW ROCK
It has been over a year since Zoey Powell decided to follow her father's and older brothers' path in practicing Brazilian jiujitsu. Since then, the 9-year-old has won three gold medals and one silver.
"I like (Brazilian jiujitsu) because I get to see my friends, and I get to compete," Zoey said. "And I like when people cheer me on, and I feel confident about it."
Zoey's primary clan is Red Bottom, being part Black and Hispanic. She is from Phoenix and trains at Gracie Barra Arizona Brazilian Jiu Jitsu and Self Defense under professor Luis Puigb.
She was scared when she first started competing, but now she has fun at the competitions. She still gets butterflies in her stomach, but not as much as when she first started competing last January.
Since then, she has competed in four tournaments, including the Arizona State Championship for Brazilian jiujitsu and a national competition at the Compnet National Championship in Austin, Texas.
Zoey's father is Fredrick Powell, a police detective originally from Shiprock. He believes Zoey is learning much from martial arts, mainly discipline, and sportsmanship.
Brazilian jiujitsu is different
Fredrick and his wife, Maria, wanted their daughter to be involved in sports, believing it would help her grow. She had tried soccer and softball, where she played well but was never excited about it.
However, it's different with Brazilian jiujitsu. She looks forward to training four days out of the week and is excited about each coming competition.
Growing up, Fredrick competed in wrestling first before switching to Brazilian jiujitsu. From what he sees in his daughter, he describes it as a natural skill, with her movement and energy.
"She absorbed it like a sponge, and now she's just excelled," Fredrick said. "And a lot of people are taking notice, especially her professor. He put her in some competitions that were not only statewide but nationally. And she overcomes our expectations, and she's really flourished."
With each win and perfection of technique, Zoey had progressed from a white belt to a gray and white belt with one red stripe. With this belt, she is now competing against competitors with years more experience than her, yet she would score wins against them.
Maria likes how the sport has made Zoey more social and confident. She especially appreciates how welcoming the martial arts community is to her daughter, even as far away as Texas, where there were kind contenders who respected Zoey for her skills.
'Positive outlook'
Other parents have complimented her for Zoey's enthusiasm and friendliness. Other kids have voiced they enjoyed competing against Zoey because of her enthusiasm; she makes the competition more challenging, even for older and stronger opponents, which makes the tournament more fun for everyone.
"She brings like a positive outlook and makes a workout fun," Maria said. "She's just extremely social and charismatic."
Maria is very proud of her accomplishments but does admit at times, she does get nervous when she watches her daughter compete in a competition where arms are tested, leg locks are used, and competitors get put in head holds.
"I'll be honest, I held my breath and felt like I had elevated blood pressure, but the pride and seeing her little happy face when they raised her arm at the end of the competition, it makes it so worth it," Maria said. "It's something that she looks forward to."
Both parents are happy to see that their daughter found a sport that sparked her interest and helped her become more confident and social. The sport also teaches her to be active, healthy, and eat right.
Zoey will be turning 10 this May as she continues her martial arts journey, saying she's planning to continue competing for a long time.
"I wanted to do it (Brazilian jiujitsu) because my brothers and my dad used to do it, and I'm inspired by them," Zoey said. "And I believe I can achieve my goal of doing as good as they can.
"You can achieve anything that you can believe in," she added.
---