A gamble that is paying off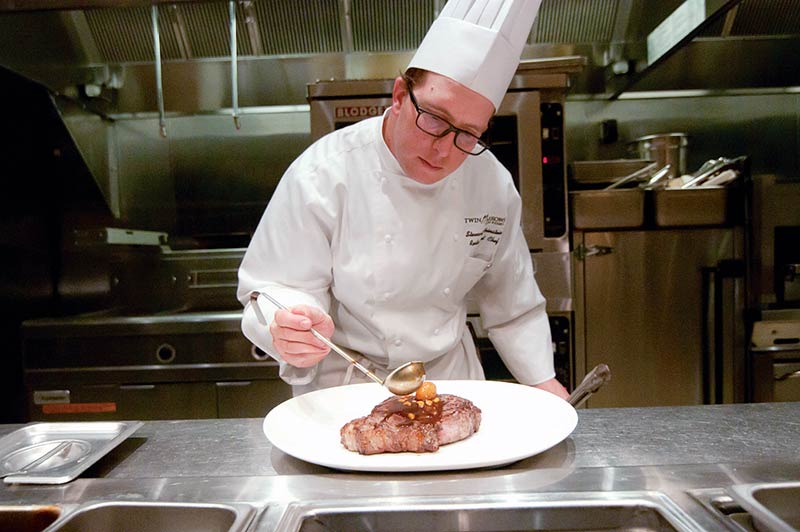 Gaming enterprise celebrates 10-year anniversary
WINDOW ROCK
While the joint Indian gaming compact goes through the New Mexico legislature for passage, the Navajo Nation Gaming Enterprise celebrates its 10-year anniversary.
Since 2004, when the Navajo people voted to legalize gaming on the reservation, the Navajo gaming economy has diversified, according to Derrick Watchman, CEO for NNGE.
We're one of the few enterprises created and mandated by the Navajo people," Watchman said.
Watchman, who has been CEO over the last two years since taking over the reins from Bob Winter, said the enterprise now has four properties – Twin Arrows Casino Resort in Arizona and Northern Edge Navajo Casino, Fire Rock Navajo Casino and Flowing Water Navajo Casino in New Mexico.
The three casino properties in New Mexico are part of the joint Indian gaming compact being considered by the state legislature. The joint compact includes five tribes — the Navajo Nation, Jicarilla Apache Nation, Mescalero Apache Nation, Pueblo of Acoma and Pueblo of Jemez – whose gaming compacts with the state end June 30.
In all, the Navajo gaming enterprises generate about 80 million annually in interest revenue and gaming profit revenue. The gaming profit revenue goes to the gaming distribution fund, which has totaled $6 million over the last three years and is being funneled to chapters that approved gaming.


Navajo Beef Program
Along with its multi-million-dollar properties, the enterprise has a business relationship with Navajo ranchers. This partnership has created the Navajo Beef Program, where grass-fed beef makes for quality steaks being sold and served in the casinos.
The gaming enterprise has partnered with more than 50 ranchers at Padres Mesa Ranch in Chambers, Ariz., 14R in New Lands, Ariz., and Turquoise Grazers in Window Rock.
"Navajo beef provides about 25 percent of our beef program," Watchman explained. "We could use more, but that source is growing."
The Navajo Beef Program, which is processed through Labatt Food Service, has produced premium, quality beef since its inception three years ago.
Individual ranchers, cooperatives like the 14R and the non-profit demonstration ranch at Padres Mesa all feed beef into the program.
"Were trying to lead the way for the whole Navajo Reservation, bringing up the standards, mostly land stewardship," explained Shepherd, foreman at Padres Mesa Demonstration Ranch.
To qualify for the beef program, ranchers have to adhere to strict guidelines such as keeping detailed records on each cow.
Shepherd said land stewardship is most important, because, "If you don't have land, and your land is in poor condition, you don't have anything really."
Last fall, Padres Mesa sold 110 head of cattle which were processed through standards set by the U.S. Department of Agriculture, netting $150,000 which was invested into replacement heifers. The ranch — which is open to any Navajo or Hopi rancher seeking to learn best practices — recently purchased 16 heifers from Wilcox, Ariz.
According to Watchman, Navajo ranchers made $439,768 in 2012-2013 and made an additional $745,940 in Year Two of the program.
What's more, the Navajo Beef Program was showcased at the annual Arizona Indian Gaming Association in November, where it won the People's Choice Award.
"They have to improve that product," Watchman said about Navajo beef, which is mostly mixed Angus, Brangus and Hereford breeds. "It's going to take some time do that."
In a Feb. 13 news release, Navajo Nation President Ben Shelly praised the beef program, touting it as creating self-sufficiency for ranchers.
"For generations, we have known that livestock is an important Navajo way of life that must be preserved," Shelly said. "By working with our partners at Navajo Gaming Enterprise and Labatt, we are enriching our tribal economy and traditional way of life."
Future goals
Under the compact that is being considered by the state of New Mexico, Watchman anticipates a larger, diversified gaming and hospitality market.
Presently conversations are ongoing with Navajo Shopping Centers Inc. for a shopping center called Glittering Mountain and gas station partnership with Navajo Oil and Gas, Inc., at Twin Arrows.
This May, Twin Arrows will celebrate its two-year birthday. It's a Four Diamond Hotel with 200 rooms and convention center.
There will be other developments occurring at the other casinos, including possible expansion with hotels at Northern Edge and Fire Rock, Watchman said.
Other talks in process include partnering with Navajo Agricultural Products Industry to provide its products at the restaurants, and Navajo Arts and Crafts Enterprise to showcase its jewelry and art, which could also attract tourists.
"We can do business amongst ourselves to improve gaming and economic development," Watchman said.
The proposed compact with New Mexico allows for two more facilities in the state, including one site at Tohajilee, N.M.
The New Mexico gaming compact is important to the Navajo economy and New Mexico. According to figures released by the New Mexico Gaming Control Board, the gaming enterprise generates about $80 million in slot revenue yearly from its casinos in Churchrock and Upper Fruitland.
The tribe's other two casinos don't report revenue figures but Watchman said that Flowing Water is making a profit and Twin Arrows is breaking even.
"We have to keep our money home, create jobs and we're a major economic engine on the Navajo Nation," Watchman said, adding, "Ten years is a significant milestone for us."
---