NTUA, Kayenta solar project chart path to the future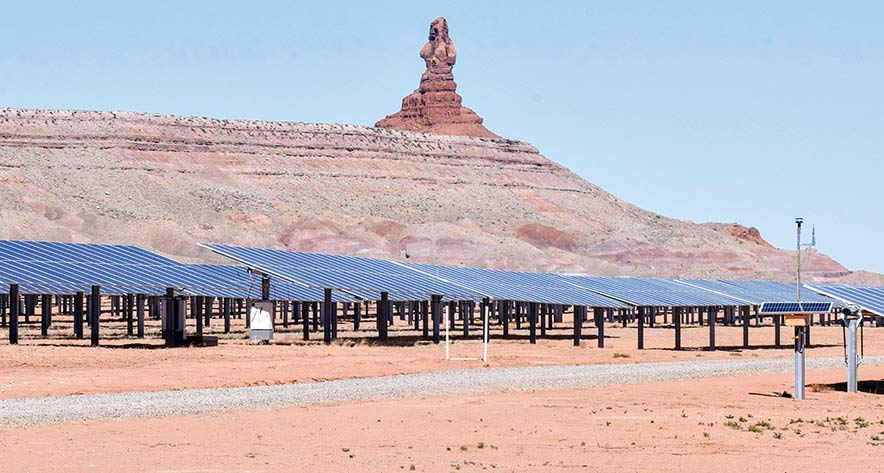 By Krista Allen
Special to the Times
AGHAALÁ-TÓDINÉESHZHEE', Ariz.
The Agathla Peak area in Kayenta is home to a number of families, various plants and animals such as nímasiichilí and gah – and a solar thermal energy plant that is 100 percent owned by Diné.
The solar thermal energy plant, better known as Navajo Tribal Utility Authority's Kayenta Solar Project, now has two large fields of photovoltaic panels called Kayenta I and Kayenta II. Combined they generate 55 megawatts – enough to power 36,000 Diné homes and businesses across the Navajo Nation.
Kayenta I was developed by NTUA and constructed by Spanish renewable energy firm Isolux Corsán Group. It was completed in May 2017 and came online the following month, marking the official opening of Kayenta Solar Project that consisted of 119,301 sun-tracking panels and had a budget of more than $50 million.
Shortly thereafter, plans for Kayenta II began. Walter W. Haase, general manager of NTUA, told the Navajo Times early last year that the utility had to secure 65 acres for Kayenta II before installation began. Kayenta I is on 300 acres of land where the late Ella Todacheenie once grazed her livestock.
"We didn't need to build a new interconnect (the access point for a solar project to deliver energy to the electrical grid) because we were able to just upgrade the existing one very affordably," Haase said at the time. Kayenta II, built by NTUA and Swinerton Renewable Energy, is now online.
A grand opening celebration was held at the site four and half miles north of Tódinéeshzhee' on Sept. 20. "When we built this project, we wanted to change the paradigm, but we also wanted to create something greater than that," Haase said in his opening comments at the celebration. "This is 100 percent owned by the Navajo people through NTUA, for the benefit of the Navajo people. "There are larger solar plants built on tribal lands," he said, "but there is no larger solar plant built on any tribal American land that are owned by their own people."
What the world wants to buy
Haase said what he means by "changing the paradigm" is creating projects that the rest of world wants to buy, such as the Kayenta Solar Project, which is the first of its kind in the Navajo Nation and in the U.S. "And that's right in line with what the president and the vice president say, 'Buy Navajo,'" Haase explained. "And that's an important change and that's the philosophical change that we need to have, moving forward." NTUA, however, has been criticized for the Kayenta Solar Project, said Haase. Perhaps because it's smaller than other solar plants in the U.S. such as Nevada Solar One in the Mojave Desert and Solar Energy Generating Systems near Daggett, California, and NTUA didn't think big.
"But the reality is you've got to think about a project that a customer wants to buy and you have to make sure that when you do this, you're in a competitive environment," Haase said. "You bring the wealth not only into Navajo, but also help and benefit the Navajo people." NTUA has a business relationship with Salt River Project. What SRP and Phoenix households buy from NTUA is the same electricity the Diné people buy but only in a specialized product and they're also buying renewable energy credits from Kayenta Solar Project.
Soon a solar project will begin, called the Red Mesa Tapaha Solar Resource, in Red Mesa, Utah. Haase said plans are underway for the Red Mesa project, a 70-megawatt operation, larger than the Kayenta Solar Project, in San Juan County, Utah. "We've already gotten through the grazing rights and support of the community," Haase said. "We're already in the process of going through the environmental review and working with the Bureau of Indian Affairs." Haase hopes to move some of the Kayenta workforce to Red Mesa to start construction by May 2020.
The Red Mesa project is expected to be completed by May 2021. Selling renewable energy credits from NTUA solar projects allows the utility to provide a cost-effective product, said Haase. "And that's really important," Haase explained. "It also allows us to leverage those dollars to do other great things on behalf of the (Diné) people. So, we're eternally grateful for that relationship (with SRP) and that opportunity."
In addition to that, Beverly, Massachusetts-based ATN International, which is a 49-percent partner on NTUA's Choice Wireless, stepped up and did something that no other participant was willing to do before, said Haase. ATN bought NTUA's investment tax credit, which allowed NTUA to keep its prices low. If this didn't happen, SRP wouldn't have bought power from NTUA because it would have been too expensive. "And that's OK," Haase said. "What's more important is that the Navajo people created a cost-effective product that people in the rest of the U.S. wanted to buy — not because they pitied us, not because they wanted to help us, but because it was a cost-effective product that met their goals for their own communities and created a higher-level social justice environment for our (Diné) people."
But this would not have been possible if it weren't for the late Ella Todacheenie and her family, said Haase. Todacheenie died at the age of 87 in August 2015, just a year after she gave up her grazing land for the Kayenta project. "(Ella) passed away before she was able to see the electricity for the first time and see the buildings be built," Haase said. "Without their vision and without their support, none of this would have happened and none of the benefits that are being put forth would have helped the (Diné) people."
Creating jobs, taxes
On the job creation side of the equation, 284 people worked on Kayenta I and 84 percent were Diné from the Tódinéeshzhee' area, said Haase. Not only did they have a job for eight months but they also learned skills and abilities that they can use to market themselves.
"For Kayenta II, we needed less land because the technology advanced, which meant 30 less acres of stuff, which meant less people to be employed the second time around," Haase said. "We had over 150 employees at Kayenta II and over 90 percent of the employees were Navajo," he said. "And Over 101 of those folks built Kayenta I and then got a job at Kayenta II." On the broader sense, $9.5 million was paid to the employees who worked on both Kayenta I and II.
That's a tremendous economic boost into the local economy, said Haase. "It really helps everybody," Haase continued. "It helps not only the folks here who worked on the job, but it also helps the folks who work at Bashas' and at the Blue Coffee Pot (in Tódinéeshzhee'). "The spin factor is only three times here on the Navajo Nation," he said. "So that $9.5 million represented $27 million over a three-and-a-half-year period of time that was spent in the local economy."
Haase said if there were economic activity and entertainment on the Nation, that spin factor would have been seven or eight times instead of three. That's the difference and that's what NTUA is striving for: To grow the local and the environmental economic activity. Kayenta I and II are both situated on 365 acres of land. The Nation received over $5.2 million in construction taxes over the two-year build cycle from the Kayenta project itself, said Haase.
"In addition to that, they're going to receive over $7.5 million of ongoing user fees because all the electricity from this project (Kayenta I) is sold to the Diné people," Haase explained. "And for Kayenta II, they're going to receive over $5.1 million in benefits over 30 years. "It's very simple and plain," he said. "No one else has done it. You have to build things that are affordable and that your customers want to buy." Both Kayenta I and II are going to generate $17.8 million over their entire life and then give it back to the Nation, especially in the midst of the Kayenta Mine and the Navajo Generating Station closures.
Power to 16 Utah communities
NTUA didn't just create a plan at the request of the utility board, said Haase, but was already in the process of making plans. "(The board) wanted to see that we could create utility-grade solar projects and create four or five of them and allow people to work over a four- or five-year period of time so that they could create economic sovereignty for those families who are involved in this," Haase explained.
"We've already done two years out of the five years," he said. "That's much more than anyone else around us has done." NTUA in July signed a power purchase agreement with the Utah Associated Municipal Power Systems, of which 47 Utah cities are members. The agreement between NTUA and UAMPS suggest NTUA will provide solar energy to 16 Utah cities for 25 years once Red Mesa comes online by June 2022, according to UAMPS. Haase explained that selling outside of the Nation keeps NTUA rates low. "Sixteen cities are now going to buy power from the (Diné) people to benefit the (Diné) people."
NTUA will have completed three years of a five-year work plan after the Red Mesa project. "We're very hopeful we'll have success," Haase added. "NTUA is honored to play a small role in helping those things move forward. And we're excited about those opportunities. "This is what sovereignty is really all about, where our people can work and provide wealth and sustain themselves," he said.
President Jonathan Nez said the Sept. 20 celebration was about shánídíín, which coordinates with the Nation's embrace of renewables. "We're taking it to the next level in terms of renewable energy," Nez said. "This project is right in line with the Nation's move toward renewables – the Hayoo?káá?."
The closure of NGS and the Kayenta Mine will hurt the Nation, he said. "So how do we supplement that loss?" Nez asked. "We also have to diversify our economy if we're going to into renewable energy. Look at this project. Arizona is catching on."
Kayenta Chapter President Stanley Clitso said the Nation never had these types of advancements and projects 20 years ago. "I'm fascinated as a leader," he said. "What we're doing today will lead us further into the future with much less that we take from our natural resources, our communities. There are alternative ways of producing energy. And that's (projects like these)."
---