20-year-old files for school board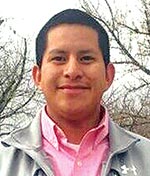 CHINLE
If you're dissatisfied with your public education, you basically have two options.
You could do what 99.9 percent of people do, and complain about the authorities. Or, you could try to become one of the authorities in the hopes of making things better for the next generation.
That's the tack Adam Jerome Begaye has chosen.
Begaye, 20, of Shiprock, may be the youngest person ever to run for the Central Consolidated School District's board of education. When people call him "inexperienced," he calls their bluff.
"People just assume young people don't have any leadership experience," Begaye said. "That's not necessarily the case."