Army band, Chinle High musicians partner to celebrate Grand Canyon centennial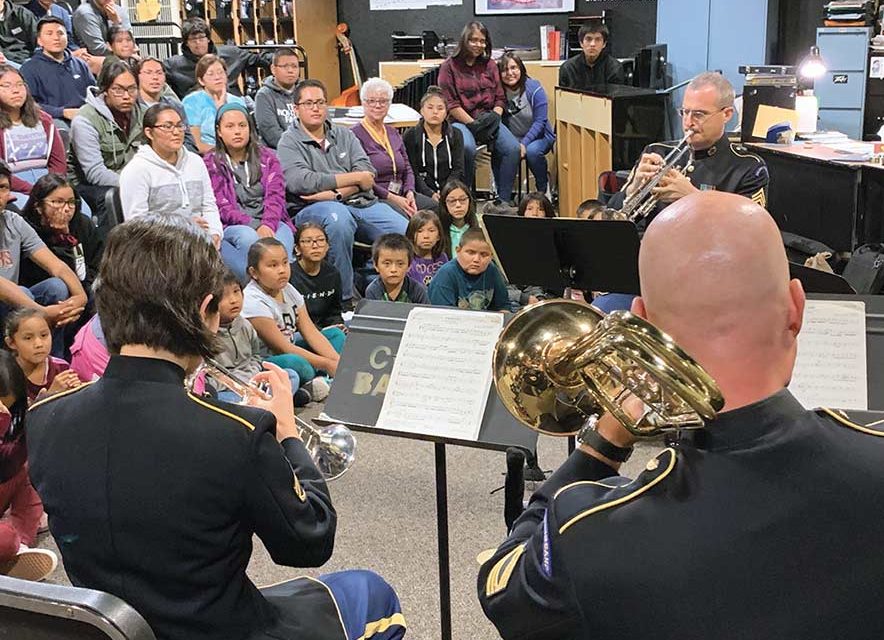 CHINLE
When she was in high school, Lauren Curran traveled from her tiny town north of Houston to the city to see the U.S. Coast Guard Band in concert.
It was a life-changer.
"I had no idea the military had bands," said Curran, now a sergeant in the U.S. Army. "I thought, 'You mean I could do something I love and and serve my country at the same time?' From that moment, I knew what I was going to do with my life." Now Curran, former euphonium player and current social media manager for the U.S. Army Field Band, gets to bring that same experience to student musicians all over the United States and beyond.
The field band plays an average of a concert a day, fulfilling its mission of being ambassadors for both the Army and music. They also stop at schools along the way to work with young musicians and let them know about possible careers in the Armed Forces — the nation's biggest employer of musicians, according to Curran.
They have been to all 50 states and 25 countries, playing at locations as diverse as Barrow, Alaska, and inside Mammoth Cave. But up until last Friday, as far as anyone could remember, they had not visited the Navajo Nation. A brass quintet from the band, which packed Popejoy Hall the last time they came to Albuquerque, gave a special concert Friday to 120 students and teachers who crammed the Chinle High School band room.
They also worked with Chinle High music students on their technique and, to the students' surprise and delight, played alongside them as they rehearsed their repertoire.
What brought some of the military's finest instrumentalists to the middle of the reservation? The Grand Canyon. This year marks the canyon's centennial as a national park and one of the ways it's being celebrated is in music. The field band and its Soldiers Chorus, in partnership with Arizona Public Broadcasting, the National Park Service and the Grand Canyon Conservancy, is slated to perform a concert at Northern Arizona University's Ardrey Auditorium on Oct. 13 called "Sacred Spaces — A Grand Canyon Celebration."
"We had been wanting to connect Native American culture (to the event), since the canyon is so important to so many tribes," Curran explained. "We reached out to Clare (Hoffman, founder of the Grand Canyon Music Festival), and she suggested NACAP (the Native American Composer Apprentice Project) and the Chinle High music program."
Chinle High School music teacher Eric Swanson was thrilled to be hosting five of the country's best brass players. "Having a chance to play with professional musicians gives the students a glimpse at a life path they could choose," he said. "To hear such beautiful music brings them joy and inspiration in their own playing."
Wildcat band trumpet player Jewel Quinn marveled at her Army counterpart's skill as she breezed through "Phantom of the Opera" with the band. "She (Staff Sgt. Tiffany Hoffer) was sight-reading, and she sounded so good!" Quinn said. "It motivated me to become a better (music) reader."
But, as they say in the infomercials, that's not all. The kids will get to perform one number with the band during their concert on Oct. 13. AND a Chinle High alumnus's NACAP composition will be on the program. Every year, as part of the Grand Canyon Music Festival, high school musicians from the Navajo, Hopi and Salt River Pima reservations get to write a piece for a professional string quartet under the tutelage of a Native American composer.
The field band chose a piece written by Tyler Esquivel two years ago to arrange for woodwinds and perform during their concert. "When I heard they were going to play my piece, I was like 'Dang!'" said Esquivel, now a student and Diné College. "I remember Swanson telling us, 'Music will take you places you never expect.' It's true."
The concert will have a video component that will include not only stunning footage of the Grand Canyon but also brief video interviews with Esquivel, some more recent NACAP composers and two Navajo veterans, Lee Chee and Clarence Gorman, whom Curran and her crew met in Chinle. "They were great," said Curran of the vets. "I was honored to meet some Navajo veterans, knowing the Navajos' contribution to the military."
As for the quintet, they felt honored to spend time with the Diné students. "We go to hundreds of schools a year," said Master Sgt. Bob Cherry, who plays French horn, "and this was by far one of the best-behaved, most appreciative groups."
"This trip," added tuba player Staff Sgt. Scott Devereaux, "will go down as one of my favorite memories."
The "Sacred Spaces" concert is at 3 p.m. Oct. 13. It's free, but you need to reserve tickets in case it fills up. To reserve tickets, visit the Facebook event "Sacred Spaces — A Grand Canyon Celebration."
Information: armyfieldband.com, The United States Army Field Band on Facebook, Chinle Highschool Music on Facebook.
Editor's note: Full disclosure — Cindy Yurth is married to Chinle High music teacher Eric Swanson
---