Diné student wins local History Day contest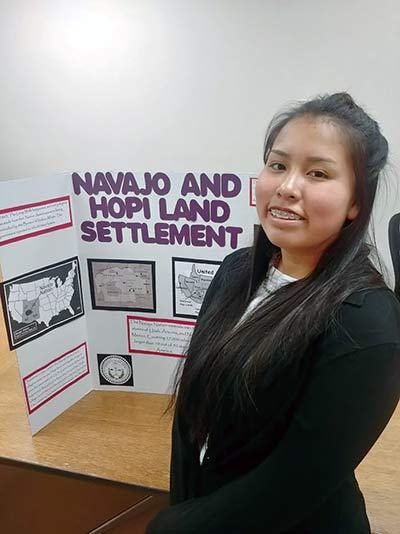 WINDOW ROCK
For a Navajo girl growing up outside the Navajo Nation, a history competition brought the chance to explore her heritage and visit Diné Bikeyah.
Neveah Talkalai, an 8th-grader at Flagstaff Junior Academy, won the local competition to advance to the National History Day Contest Arizona competition to be held Saturday at Arizona State University. She targeted the 2018 theme for the competition, "Conflict and Compromise in History," by exploring the history of the 1974 Navajo-Hopi Land Settlement Act.
The subject allowed her to explore her own family connection to the history. Her grandparents, Dudley Yazzie and Charlotte Franklin of White Cone, Arizona, lived through the time of the settlement act. That gave Talkalai a place to start her research.
"I chose this," she said. "For many years, it's been affecting Native Americans through the government." In an interview on March 21, she listed her clans as Big Water, Bitter Water, Salt, and Apache. "This is all because I live off the reservation, and away from my culture. I'm learning more and more about my culture," she said.
The dispute itself has a history going back further than the settlement, and the settlement didn't resolve the issue, which still impacts both tribes today.
---