NTU grand opening just the start for Chinle campus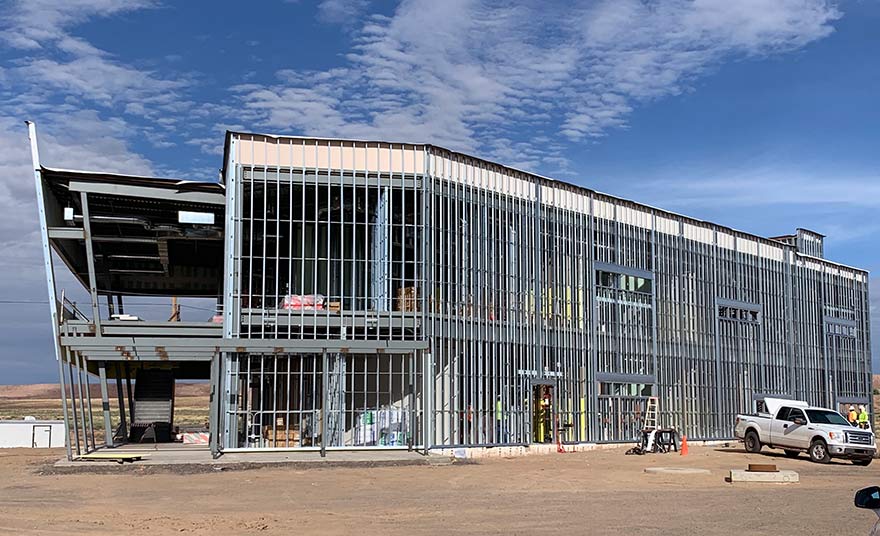 CHINLE
The massive two-story structure on the south end of town is shaping up to be the most imposing building in Chinle since the Wildcat Den. But it's just the beginning for Navajo Technical University's new Central Agency campus.
The academic building and a much smaller (but finished) structure unveiled at the campus's grand opening last Wednesday mark the toehold of a campus that at full build-out will include dorms, faculty housing, an outdoor amphitheater, gymnasium, child-care facility and eventually the piéce de resistance: a state-of-the-art environmental testing laboratory that will not only be used to train students but can accept water and soil testing contracts from all over the reservation and northern Arizona.
Arlena "Bo" Benallie, director of NTU's Chinle campus — which up to now has been an agglomeration of trailers at one of the Navajo Housing Authority developments — was beaming and gleaming in traditional dress as she showed a reporter around the smaller academic building and helped a medicine man set up for a blessing of the new property. "Look out for the future, because Navajo Tech has big plans for Central Agency!" she said.
The 6,000-square-foot smaller building, which is ready for the 400-some NTU students enrolled in Chinle to start Aug. 19, contains five classrooms, a small library, shared faculty offices and a computer lab with 48 stations. This will eventually be joined by the 20,000-square-foot building now under construction, which will boast seven classrooms, a wet lab for chemistry and biology, a library, private tutoring rooms, and "a large open space for students to relax," Benallie said.
The campus currently has 11 full-time faculty and is hoping to hire more. Benallie did not know how many construction jobs were opened by new projects, but there were six or seven workers visible at the site Wednesday morning and the construction will continue for years as funding becomes available. The two buildings, which together will cost between $25 and $30 million to complete, were designed by Indian Studio Art and are being constructed by FCI.
Benallie said the university, which has had a campus in Chinle since 2006, has long wanted to expand its footprint. "Chinle is the center of the Navajo Nation," she said. "We're attracting students not just from Central Agency, but all over."
With nationally accredited veterinary technician and culinary arts programs and a commercial driving school in the works, students inclined to the trades have more than 18 certificate and associate options at NTU. But the university also offers several bachelor's and master's degrees and is in the process of adding a doctorate in Navajo culture.
"Whatever our students' dreams are, even if they think they're impossible, we want them to know that we'll work with them to get the education they need right here at home, close to their families, in the middle of our sacred land," said Benallie.
---