Project tells kids, 'Please paint on the walls'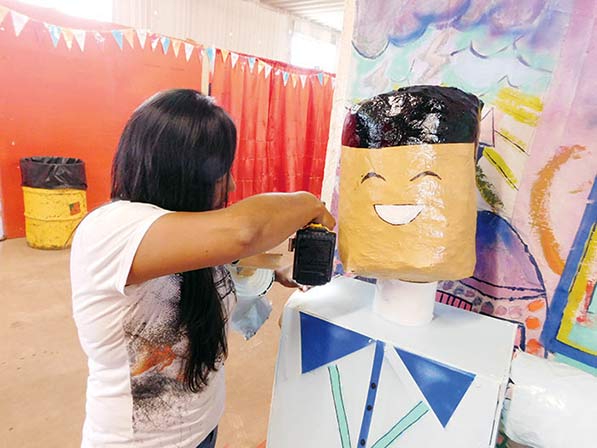 WINDOW ROCK
Dozens of children from schools across the Navajo Nation were laughing last Thursday as paint splattered across tables and the floor as they all eagerly pitched in on what would become two four-foot-tall Lego-inspired figures.
The art project is reminiscent of Lego mini-figures — just way bigger and wearing traditional Navajo clothing. One was a woman and the other a man. The mixed media project by young Navajo artist Leandra Yazzie was a collaboration between Meow Wolf, an interactive 3-D art installation in Santa Fe, and the Navajo Nation Museum for Kids Day during the 71st Annual Navajo Nation Fair.
"It shows a lot of identity," Yazzie said. "To keep the tradition going even if it's just recognizing how you dress up traditionally."
While Yazzie has experience working with young people it was never at this level. The space was overflowing with children who wanted to get their hands dirty and leave their mark on what can be best described as a 3-D coloring book.
"It was more than what I expected," Yazzie said as she grinned. "I'm used to a controlled environment but this was just like a flood of kids. But it was so much fun!"
The high energy and chaotic environment lead to some amazing creativity from the children. "We would instruct them how to paint, right?" Yazzie said. "So we turn our back, work on the mural, turn back, and everything is so totally different. But it's so creative."
Part of the project was a canvas mural that looked like a life-size coloring book page – something Yazzie's three-year-old self would have much appreciated. "I drew on my grandma's walls," Yazzie confessed. "Nobody knew who was drawing them."
---