Guest Column, Carlye Begay: 'Serving in the Ariz. State Legislature is not a popularity contest'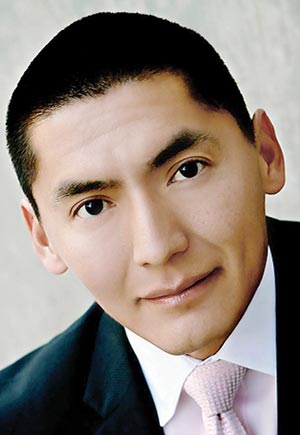 By Carlyle W. Begay
Special to the Times

The Navajo Nation, like many tribal communities across the state continue to struggle to grow our economy and provide more jobs, expand basic human services, getting healthcare and other services to the Navajo people, but most importantly educating our kids.
This past week the Arizona State Legislature passed a structurally balanced $9.1 billion budget with my vote providing one of the 16 overall votes in the Senate.
It wasn't easy.
With the state facing a $1.8 billion dollar deficit in the coming two years, there were reductions to government spending that were inevitable.
No doubt will these spending cuts impact not only the Navajo Nation, but also the entire state.
Cuts to K-12 education, universities, healthcare and other areas would have not doubt been a reality no matter what version of a budget that passed.
Many question my vote but I truly believe my vote for the budget was a vote for my district and for the difference these areas will make in the years to come.
I will continue to choose to want to have a seat at the table when budget discussions occur.
Especially considering for far too long have our communities been ignored in the budget making process.
I respect and value the opinions of those who opposed this year's budget I respect their right of other legislators who voted against the budget as it was presented.
Votes are not always easy, but each member must represent our constituents, even, no matter how unpopular it may be.
I pledged while running for office not to serve partisan politics but the needs and priorities of my constituents.
It has been truly an honor to serve Legislative District 7 in the Arizona State Legislature.
Upon appointment and re-election to the Senate, I set out to establish priorities for my district and made a commitment to my represent my constituents effectively.
I pledged to be the voice to our rural and tribal communities that they have gone without for so long.
Rather than relegate my district's interest to partisan politics, I choose and will continue to seek opportunities to participate in the legislative process, including the state's future fiscal outlook and finally bring about the much-needed investments from our state for infrastructure, human services, and education.
I have always made infrastructure and transportation a priority.
Transportation is the tie that binds us together as a Navajo Nation.
Our roads impact all people and our lands across Navajo as our roads, bridges, and transit systems quite literally carry people across a network that connects our communities together.
But progress does not travel down dirt roads and broken bridges.
Especially school bus routes that often go unmaintained and disrepair.
I hear of countless stories where buses get stuck or students are not able to go to school because our roads our impassable.
This is unacceptable and it is my hope and intention that a part of the $1.2 million apportionment I received, as part of the budget, will be used in communities that need it the most.
Additionally, it is well known that Indian education is in crisis.
Within our tribal communities, we have the lowest graduation rates and the highest dropout rates in the state.
This too is unacceptable.
To address this, I put much of my efforts toward negotiating into the budget, dollars that would help offset costs for dual-enrolled students at Navajo's two tribal colleges – Dine Collegé and Navajo Technical University.
Tribal colleges will be compensated and funding from unclaimed Arizona Lottery funds will be used to support tribal college dual-credit programs.
Dual enrollment allows high school students to earn community college credit, while also working on their high school diploma.
Dual enrollment proves advantageous for students in our tribal communities.
It allows them to ease the transition from high school to college and get a head start on a college career.
There is evidence that it also promotes high school graduation and improves a student's likelihood of remaining in college.
We need to encourage more of these programs in rural and tribal areas and this appropriation does just that.
Lastly, my vote will also allow greater investments from the state into our tribal colleges – not just Navajo.
Many of our children who want to go to college want to stay in their communities to receive a college degree.
To this effort, the budget also included a provision for Arizona's tribal colleges to receive up to $1.75 million from Transaction Privilege Tax (TPT) funds to support the maintenance, renewal and capital expenses of their campuses.
Currently the Navajo Nation is the only tribe to receive TPT funding for Diné College and Navajo Technical University.
My budget negotiation would now allow the Tohono O'odham Nation and the San Carlos Apache Tribes to receive the same funding as the Navajo Nation.
Currently tribal colleges are not currently part of any community college district, and as a result, these schools are not eligible to receive state funding for the maintenance, renewal and capital expenses for their facilities.
Our tribal colleges have become pivotal in increasing the educational, social, and economic core of our tribal communities.
Tribal colleges are true community institutions.
Serving in the Arizona State Legislature is not a popularity contest, nor is it a platform for grandstanding.
I am here to serve my district, serve my state and uphold the progressive values that keep me moving forward.
It is my sincere hope my decision and my vote will make all the difference.
Once again, it is an honor to serve our tribal communities and the state of Arizona.
I will continue to make the best decisions I can for all the people of my district, even if that means controversy and criticism for me.
Ahééhee'
Carlyle W. Begay is an Arizona State Senator. He is a Democrat and represents Arizona's District 7.
---