Guest Column: Support for the Public Safety Fund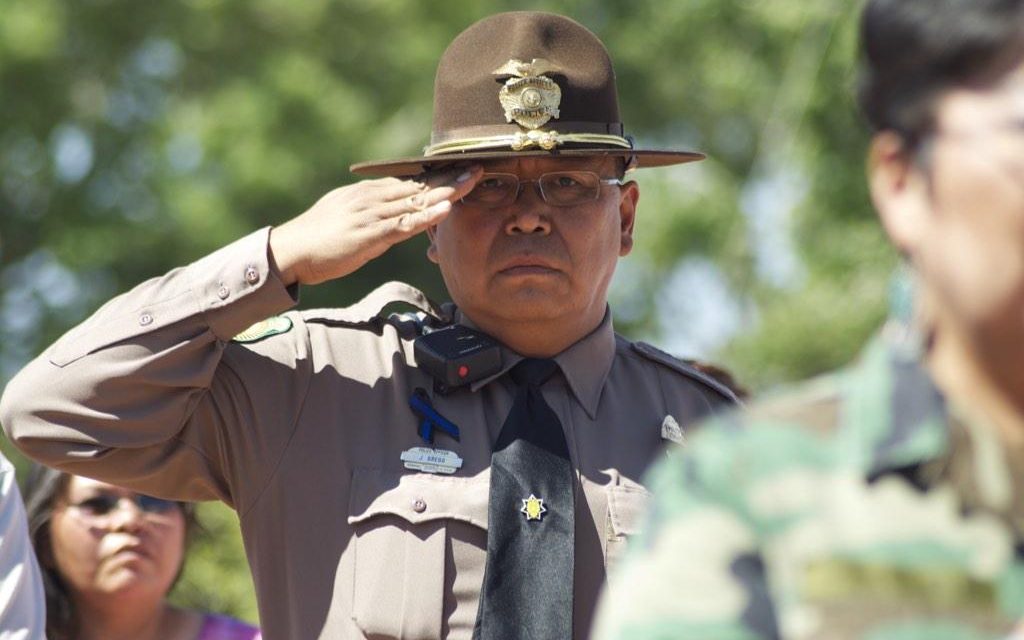 By Jesse Delmar
Our Navajo Nation Police Department patrols approximately 27,000 square miles of the Navajo Nation. The NNPD responds to over 200,000 calls for service and conducts over 25,000 arrests every year. This is a huge amount of work for approximately 200 officers on patrol duty.
The creation of the Public Safety Fund for the Navajo Nation would assist in the areas of recruitment and training of new officers to effectively address the large call volume.
NNPD also has several police buildings that are in desperate need of replacement and modernization. In addition, the Navajo Division of Public Safety would like to build substations in remote areas of the nation to ensure the safety of its citizens and improve police response time.
The emergency dispatch centers under NNPD are also outdated. Modernizing the radio and 911 system is a critical need for public safety on Navajo Nation. The proposed Public Safety Fund would help address the staffing and infrastructure needs for NNPD.
The Department of Criminal Investigations is challenged to provide criminal investigation services to the Navajo Nation people. DCI is in need of acquiring software and security systems for criminal investigation information sharing networks with federal, state, and tribal law enforcement agencies.
A crime analysis or criminal analyst positions would assist the DCI to compile crime mapping, predictive crime analytics, and provide criminal activity data to combat criminal activities in remote communities.
DCI within the past five years had responded to a total of 4,920 major crimes (Part I and Part II) near the exterior boundaries of the Navajo Nation within the three police districts. For us to improve recruiting, hiring, and retaining officers for the nation, we need to provide a good retirement, increased pay, and updated equipment.
In fiscal year 2016, the Navajo Nation Department of Corrections detained 35,938 individuals at the six adult detention facilities. Of the 35,938 individuals, 27,585 individuals were released after 16 hours due to requirements of the consent decree and for lack of police reports; 3,662 individuals were held for 36 hours under the Violence Against Family Act; 33 individuals were held at the request of the Federal Bureau of Investigation due to serious charges; and 13,829 individuals served more than 36 hours under a temporary commitment by a court order.
The Navajo Department of Corrections is in need of 75 correctional officers at the Navajo Nation's six adult detention facilities to assist with security and basic corrections services. In fiscal year 2016, there were six attempted suicides with two completion and without these additional officers the Navajo Nation stands to face other liabilities due to lack of security and intervention services.
The average daily population between the six adult facilities is roughly 199 individuals per day. Without intervention, this population will continue to recidivate causing a revolving door of crime.
There is an increase incarceration of adults with mental health problems who require one-on-one intervention and services within these facilities. The nation courts and other social service providers are requesting use of the detention facilities as temporary holding facilities, which is problematic.
The nation must address and provide services to adults with mental health issues. The local Indian Health Services are not equipped to house individuals with mental health issues who are aggressive and refuse physical/mental health services.
The cost for 75 additional corrections officers with benefits is $3,970,153. Funds are also to purchase additional transport vehicles to transport inmates to medical facilities, detention facilities, and court.
The training of our officers is vital for correction officers so that they are provided the right skills to intervene and address high-risk suicides and other mental health conditions, which is usually not known at the time of arrest and booking.
There is a huge need on the nation for public safety professionals that are willing to step up and ensure the safety of all of our constituents. We need your help to secure the funding for our police officers, dispatchers, investigators, correctional officers, and analysts.
I am asking you to call your Council delegates and voice your support for Legislation 0055-17. This Legislation is not only important to ensure the safety and wellbeing of you, as a constituent, but it will be beneficial to your grandchildren and their children in the future.
Jesse Delmar is director of the Navajo Division of Public Safety.
---