Inauguration is an acknowledgement of change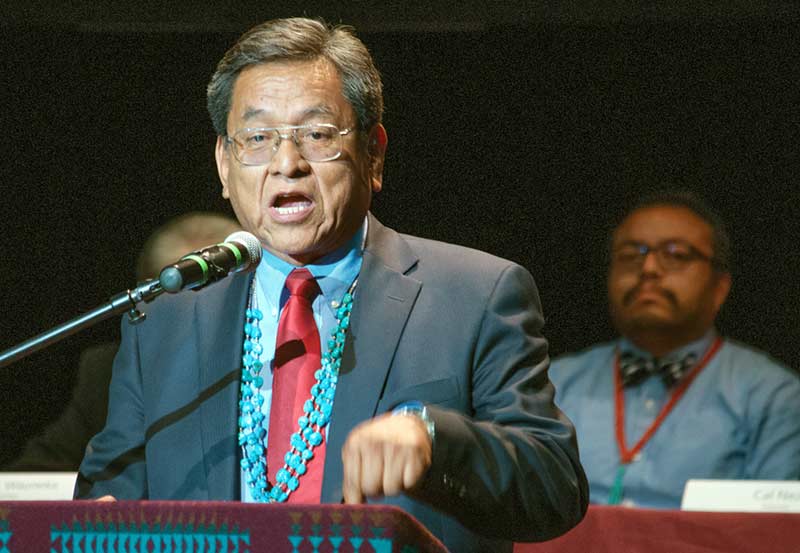 By Russell Begaye
Navajo Nation President-elect
Yá át'ééh! Shik'éi dóó shi diné'é. It is an honor to serve the Navajo people and a privilege to represent the Navajo Nation.
On Tuesday, May 12, in the Bee Hóldzil Fighting Scouts Events Center in Fort Defiance, I will take the oath of office at noon as the next president of the Navajo Nation.
On behalf of myself, the honorable vice president-elect Jonathan Nez, and other newly elected officials, we invite you to join us in this historical event.
This particular ceremony of an "inauguration" is significant because everyone will be witnesses of the responsibilities and standards we pledge to follow in our term of leadership. It will be a humbling moment for us, especially after enduring the longest campaign period and overcoming the challenges that occurred during this election.
An important part of this inauguration is the acknowledgement of change. We know that all things must change, it is necessary in order for new growth to happen. Prevalent in our Navajo culture is the key figure of Changing Woman, who teaches us that change is inevitable. As a Navajo people, we have always been able to emerge from difficult circumstances to a restoration of beauty and harmony. These value-based teachings fill us with hope and renewed optimism about what our Navajo Nation can become.
We are looking forward to the new people who will be coming to fill key positions. We look forward to the collaborative work that will be done with all leaders who represent the Navajo Nation in local, county, state, and federal positions. We cannot do this work alone. More importantly, we need each of our citizens to help and support the work that will take place.
We hope that many of you will join us Tuesday at the inauguration of your next Navajo Nation president and vice president. Doors of the Bee Hóldzil Fighting Scouts Events Center will open at 8:30 a.m., with the inauguration starting at 10:30 a.m. Ahe'hee!
---