We stand here because of all of you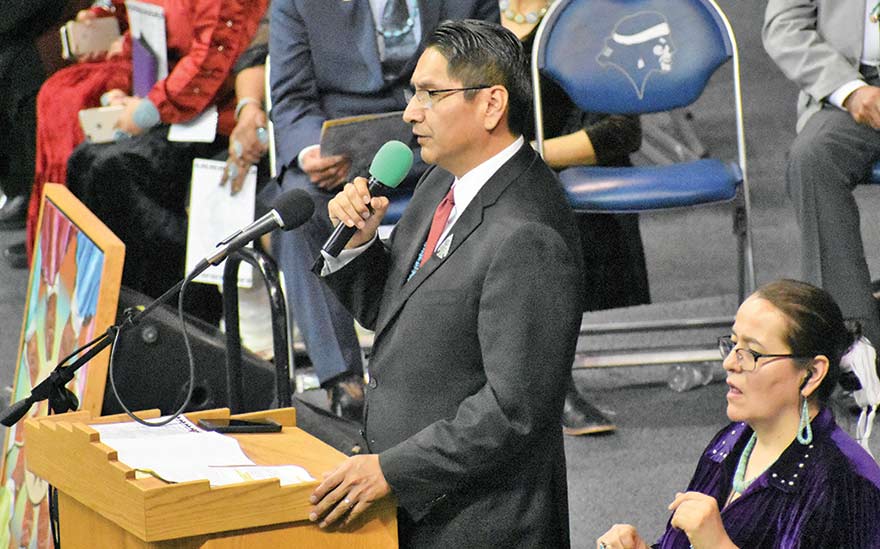 Editor's note: This is the inauguration speech given by President Jonathan Nez on Jan. 15.
By Jonathan Nez
President
Navajo Nation
I am Áshi?i?hí (Salt People) and born for Ta'neeszahnii (Tangle clan). My maternal grandfather's clan is Tódích'íi'nii (Bitter Water Clan) and my paternal grandfather's clan is Táchii'nii (Red-Running-Into-The-Water Clan).
I am originally from Shonto, Arizona. I am the son of John H. Nez and Mabel H. Nez. My grandfather, H.T. Donald, was the former Navajo Nation Council delegate for Shonto Chapter, and my grandmother was Mae Donald from Shonto.
Today, Vice President Myron Lizer, along with our families, and I stand here because of all of you out there … all of our Navajo people. You believed in us, you believed in our message, and you believed it was time for change!
From the very start of the Nez-Lizer campaign, three words defined everything that our team did along the way, every step we took, and every word that we spoke. Those words are unity, hope, and resilience.
From day one, our campaign was about the Navajo people – not any one segment or any particular group of people with special interests, but all of our Navajo people united.
Our team ran a grassroots campaign in which we welcomed and embraced our people from every corner of our great Nation and beyond. We met many people with unique perspectives who brought a wide variety of matters to our attention, but it was apparent that they had one common notion in mind when it came to our Nation's leadership and our Nation's government – the need for change. I believe that's why we see so many new faces among the leaders who took the oath of office with us today.
Change presents opportunity – the opportunity to work together to strengthen and empower ourselves as individuals and as communities. Along the way, we talked with many elderly, youth, single parents, working families, students, and many others seeking the change that we all deserve and desire. What I saw was hope. Despite the many challenges we face, our people still have hope – a hope for a better tomorrow for all of us as Diné people!
Recently we recognized the 150th anniversary of the signing of the Treaty of 1868 between the federal government and the Navajo people. One hundred fifty years ago our people faced great adversity, as they were taken from our homelands and forced to walk hundreds of miles, only to be held captive under the orders of the federal government.
In the face of this adversity, our people turned to our teachings and our prayers. Their strength, resiliency, and teachings are the reason we are here today. They are the reason we have the right to go to the voting polls, and they are the reason we have the right to choose our leaders!
When the Treaty of 1868 was being discussed between our people and the federal government, it is a little known fact that Diné women were the true negotiators on our behalf. The federal government wrote the terms of the treaty and they explicitly excluded our Diné women from those terms and refused to negotiate with them directly. While our great leaders like Chief Manuelito and Barboncito signed the treaty on our behalf, it was truly the women of our great Nation that negotiated on behalf of our people.
Diné women are proven leaders in our government, in our homes, and throughout our communities. They are the matriarchs of our families and the foundation of our society. Our mothers and grandmothers provide us with strength and guidance and they define who we are and who we become.
First lady Phefelia and second lady Dottie, both of you are strong and resilient women and I know that together, you will represent our Nation with great honor and serve as a great mentors and examples for all of our Navajo people.
Just as we saw on Election Day, Indian Country took a stand and made history by electing the first Native American women to serve in Congress! I congratulate Congresswoman Debra Haaland and Congresswoman Sharice Davids for making history and for making us proud!
To our Diné women, you have the commitment of the Nez-Lizer administration that we will fight for you and advocate for you at every level of government. We will fight at the federal level for the reauthorization of the Violence Against Women Act through Congress to ensure that perpetrators who commit violent acts against our Native women are prosecuted to the fullest extent!
During the campaign and after we were elected, the Nez-Lizer team assured our Navajo people that our administration would have Diné women in high positions within our cabinet. Today, I am proud to say that we have built a strong team of division directors comprised of bright, intelligent, and hard working Diné men and women who are ready to hit the ground running to serve the Navajo people!
They are with us today, and I ask them to stand at this time and be recognized.
The day after we were elected into office, we established a strong and diverse transition team to evaluate and assess potential candidates to serve in the highest positions for the Navajo Nation. We had nearly 200 applicants across the country, many of which wanted to come home and serve our Nation.
We assessed their academic and professional accomplishments and experience, but most importantly we examined their character and their passion to help our people and our Nation. Today, we are proud to say that we have our team in place, and that we are ready to get to work to bring change to the Navajo Nation!
We have many challenges and issues that we must address. Our country is currently in the 24th day of the partial federal government shutdown. Thanks to the wisdom of our great leaders in the past, the majority of our services have been spared from many of the adverse impacts that many others are experiencing, but that does not mean that we will continue to be spared the longer that this shutdown continues.
Our Nation is also faced with the strong possibility that we will see a 30- to 40-percent decrease in annual revenues in the coming months. While that may seem like something that many of us perceive as negative, we have to begin to view this situation as an opportunity. It's an opportunity for us to re-evaluate ourselves and the way that we do business, especially the way that we do business in Window Rock.
As your president and vice president, we have challenged our division directors to develop a strategy that reduces wasteful spending, reduces duplication of services, and allow us to become more efficient and effective when it comes to operating our government. We need to restore the people's trust in government at the chapter level, regional level, and at the central level. We need to change, in order to have a government that our people can trust and that our people can believe in!
Together we can do that, but we must also look at ourselves as individuals. During our campaign, our team had the honor of meeting so many of our young people on and off the Navajo Nation. We listened to many of their stories, both good and bad.
It's apparent that our youth today face adversities that were unknown to us decades ago. Suicides, substance abuse, bullying, and depression are just a few of the problems that our young people deal with far too often. To those young people who feel they have no hope or nothing to live for, you have the commitment of the Nez-Lizer team. We will work in the coming years to continue addressing these issues so that you have a better and brighter future for yourselves and your loved ones.
If we want change in our communities and throughout our Nation, change has to start from within ourselves as individuals, but some of our people need help doing that. Alcohol and substance abuse, depression, suicides, and mental illnesses are only a few of the problems that too many of our Navajo people face each day, especially among the young people in our society. We need to instill a greater sense of hope and let them know that we care about them.
Our Nation can have running water and electricity in every home, we can have a strong economy where everyone has a job and is doing well financially, but if we don't address the underlying problems that are affecting our people, our families, and within our homes, then those material things won't mean much in terms of improving the quality of life for our people.
Philippians 4:13 states, "I can do all this through him who gives me strength." Together, we can. Through the power of our prayers, the strength our families, and the will to be better individuals we can begin to see a better future and a vision for our Nation.
As I look at my colleagues here on stage – the 24 members of the 24th Navajo Nation Council. My message to each of you today, is that we need to work together to move our Nation is the right direction. I think we all know that our people are tired of the squabbling and differences that stall progress and create animosity among our Nation's leaders.
You have our commitment that we will work hand in hand with you to create change for our people and to move issues forward. To our leaders in Congress, at the state level, county level, and chapter levels, we look forward to working with all of you to resolve and advance the issues of the Navajo Nation including water rights, health and wellness, education, land issues, public safety, infrastructure development, and many others.
As Diné, we have a long history of great leaders who were respected by our people and that is something that need to bring back to our Nation. We as leaders need to be example and lead by example so that our Navajo people will be able to restore that sense of respect for our Nation's leaders, and also for law enforcement officers. That's something that begins at home with our children. We as parents need to be examples for our children, and through that, our children will respect their parents and other authority figures in their life.
I also want to take this opportunity to thank my best friend, the heart of our family, and the love of my life, my wife Phefelia. She has been by my side since day one. She exemplifies the strength, integrity, and sacredness of Diné women. Without the love and support of my wife and children, I would not stand before you today. She will serve our Nation well in the Office of the First Lady.
To our campaign team, I thank you for volunteering your time and going above and beyond to organize our team so that we can create the change that our people demand. Because of your hard work and dedication, we have proven that the voices of our youth and elders can succeed and make a difference!
To Vice President Myron Lizer and second lady Dottie Lizer, I cannot thank you enough for taking on this challenge. I know that it took a lot of sacrifice for you, your family, and your loved ones, but you recognized the value and importance of public service. I look forward to working with you as we serve our Diné people together!
Congratulations to the 24th Navajo Nation Council, Navajo Board of Election Supervisors, Board of Education, and Kayenta Township Commissioners. Thank you for taking on the challenge of serving your communities. I assure you that the Nez-Lizer administration will work with you to create a better future for all of our people.
God bless each of you, and God bless our great Navajo Nation!
---