The hitchhiker diaries: Homeless youth; Lazarus come lately; Seoul survivor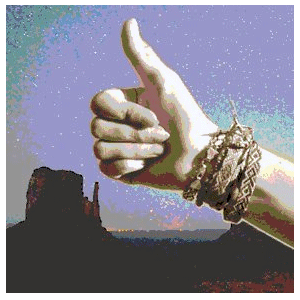 More tales gleaned from the roadsides of Diné Bikeyah: A life in strange cars
I'm one of those homeless youth you hear about.
Most of my life is spent riding in strangers' cars.
I'm coming from my dad's house. I stay with him until he gets drunk and kicks me out. Then I stay with my mom until she gets drunk and kicks me out. I'm heading to my aunt's house now. She doesn't want me either, but I know if I show up at her door she won't turn me away.
I have a couple of girlfriends, but I don't like to stay with them. I have a baby with one of them. She's always asking me for money for food and diapers for the baby. How can I get a job if I don't even have a home?
I try not to think about the future. It's too depressing. I just start every day wondering where I'm going to sleep and what I'm going to eat.
Sometimes I feel like some kind of animal.
Resurrection man
I have death certificates from four different states.
Every time I get in a car wreck, my heart stops. They think I'm dead and then I surprise everybody by waking up.
One time in Farmington, I woke up to see my dad standing over me, crying. I realized I was in the morgue! I had a toe tag and everything. They had called my dad to identify the body.
Every time it happens — every time — I'm with a woman. If I could stay away from women, I wouldn't have to die so often.
Happy birthday
Thank you for picking me up. It's my birthday. I turned 83 today.
I'm headed to the post office. Pay day for serviceman!
You don't have to talk to me. I can't hear out of my left ear. Ever since Korea. I was running for a foxhole. It was about 30 feet away when I saw something drop from the sky.
I woke up in the hospital. My jaw was wired shut and I couldn't hear out of my left ear. My jaw got better but I still can't hear.
I don't complain. A lot of older people, they spend their days complaining about today. As for me, I think today is all right.
You see this nice road we're on? It wasn't here when I was small. No roads, no school. If you were a man, you went to the military. If you were a girl, you stayed home with the sheep.
My kids, they're all in different places. Some are going to school. Some have different jobs that they like.
My wife still works. I get my check in the mail.
So to me, today is not so bad.
Thank you for listening to me. I wish I could hear you too.
---