2A North Region Tournament: Piñon boys, Valley girls advance to finals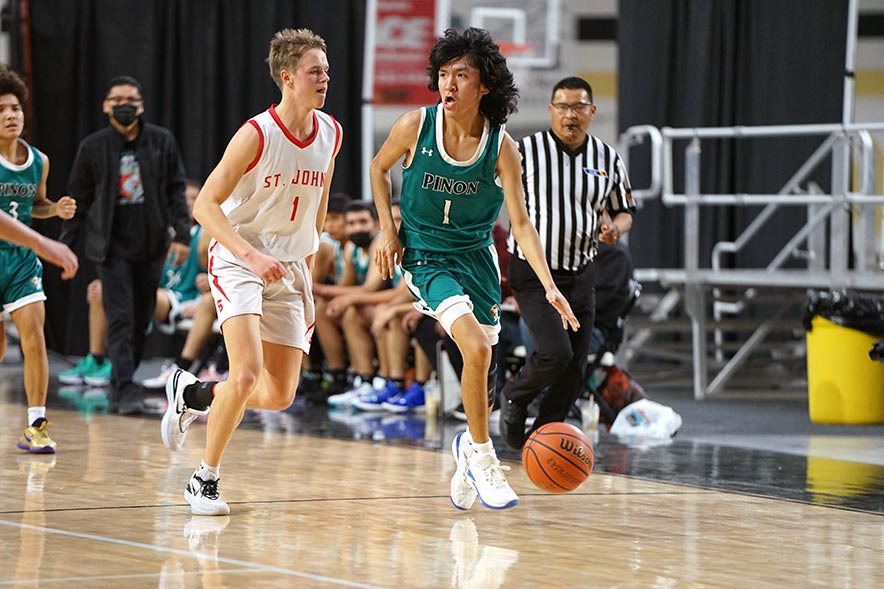 EAGER, Ariz.
The finals are set for the 2A North Region tournament.
The Piñon boys and Valley Sanders girls will play in tonight's title game as both teams advance with semifinal wins Friday night at the Round Valley Dome.
The No. 2 seed Valley Lady Pirates (15-9) nailed eight treys to beat No. 3 Round Valley 56-40, while the Piñon Eagles (12-11) pulled off a mild upset and outlasted No. 2 St. Johns 66-63.
This was Piñon's first win over St. Johns.
"I'm very proud of the boys," first-year Piñon coach John Hubbell said. "They put a lot of hard work in, and none of those boys missed a day of practice. They earned it because of their hard work, and it showed."
The Lady Pirates will play top-seeded St. Johns at 5 p.m. while the Piñon boys will try to pull off another upset over No. 1 Round Valley at 7 p.m.
The St. Johns girls defeated Many Farms 48-23, and the Round Valley boys made easy work of Hopi by a 60-23 count.
The Eagles opened up a 25-14 first-quarter advantage and held onto that double-digit lead until St. Johns made a run in the fourth quarter.
Trailing 53-37 at the end of the third, St. Johns turned the table with its defense and led 63-61 with 46.9 seconds.
"We already expected that," Hubbell said. "We knew they were going to full-court press us, and they really pressure us. That is what they did on us at home and when we played them at St. Johns."
The Eagles closed out the game by making 5-of-6 free throws to seal the win. As a team, they connected on 19-of-26 at the charity line.
"Free throws have been one of our weaknesses throughout the season," Hubbell said. "We lost to Round Valley by two points, and it was because of free throws.
"I'm just so happy that we finished it," he added.
Jarrett Dalgai led Piñon to finish with 16 points, Dean Klah chipped in 15, and Lane Nelson added 11.
Valley girls
The Pirates seized a 12-7 first-quarter advantage and added to that lead as Valley took a 33-22 halftime cushion.
They pushed that margin to 46-26 entering the fourth quarter before winning by 16 points.
"We made a run, and we kept running with it," Valley coach Dorothy Mitchell said while adding that before the game, they wanted to get a good start.
"I have a young team, and they're gonna make mistakes," she said, "so we talked about needing to take good shots and making them count."
Junior point guard Kaelynn Nez led that charge with a game-best 23 points, which included 11 in the second stanza.
Junior Megan Nez added 14 with four treys, and senior Madison Yazzie helped out with nine.
Valley is seeking its first win over St. Johns, having lost 79-53 and 68-49 in its previous two meetings.
"We haven't been able to match them," Mitchell said of St. Johns. "We'll match them for third quarters, then along the way, we just lose it."
The Valley coach is expecting St. Johns to key on Kaelynn Nez, so she's looking for someone to take over.
"They have to get used to that idea," she said. "If we fix that, maybe we'll have a game with them. I hope we can stick with them."
Today's action starts at 1 p.m. with the girls third-place game between Many Farms and Round Valley, followed by the boys third-place game at 3 p.m., pitting Hopi and St. Johns.
---