A jack-of-all-trades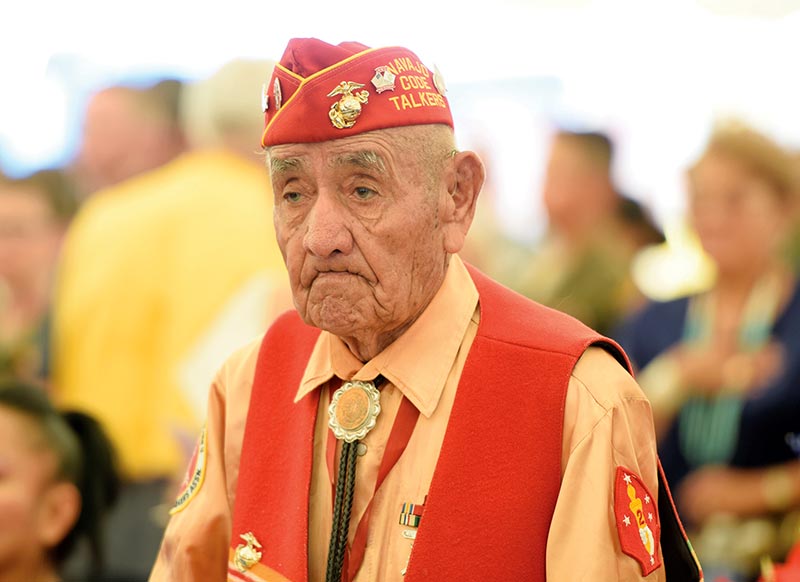 Code Talker Willie at first kept service secret, then opened up with pride
WINDOW ROCK
George Boyd Willie Sr., who passed away Tuesday at the age of 92 in his home in Leupp, Arizona, after a long illness, really took to heart his oath to keep the fact he was a Code Talker a secret. According to family members, he didn't tell them he was a Code Talker until 1997, more than 25 years after the federal government declassified the information and officially informed the world of their existence.
Annabelle Smallcanyon, his youngest daughter, said when they heard that he was a Code Talker and asked him about it, he said he couldn't say anything because he took an oath when he was discharged that he wouldn't reveal anything about their existence. "I told him that it was all right because other Code Talkers were talking about it and telling about their experiences," she said. After that, she said, her father would tell family members about his experiences as something triggered his memory.
Born in a small community near Sawmill, Arizona, in either 1925 or 1926, depending on whose records you believe, Willie, who is Tó Dích'iínii (Bitter Water) and born for Tábaahá (Near The Water Edge), went to the Sawmill Day School before transferring to the vocational school at Fort Wingate where students studied academics in the morning and then took farming courses in the afternoon.
His mother died when he was young and his father, who was a lumberman, remarried, so he would spend much of his time being cared for by aunts and uncles. But he never lost his love and respect for his father. Smallcanyon said Willie would often tell of times that he would wait for his father at the gate of the sawmill and when he came out, he and his father would walk back to where his grandmother, who was watching him at the time, lived.
He only went to the 7th grade and like many Navajos, started trying to enlist after hearing about the Japanese attack on Pearl Harbor on Dec. 7, 1941. "He was too young, however, to get in," said Smallcanyon. "He had to wait until he was 17."
He finally became a Marine and Code Talker in 1943 serving as a private with the 2nd Marine Division, 10th Battalion. He participated in the battle of Okinawa, delivering and receiving coded messages using the Navajo language, according to the Marine Corps.
He would later tell family members and others about what he remembered about the battle. He began with the ropes that were placed alongside the ships so that the people on the ship could get into the water. He recalled there was a priest who was giving the soldiers getting off the ship a blessing, saying that he didn't know if they would return, but "if you don't, you are doing this for your country."
---