Abandoned houses in Fort Defiance create eyesore, danger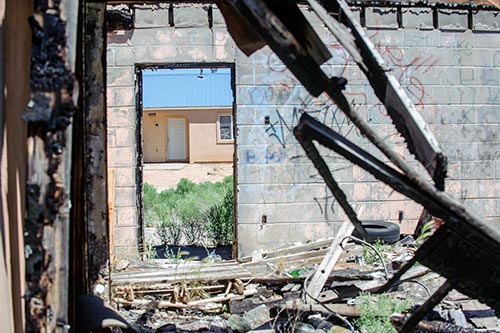 WINDOW ROCK
Driving on Black Creek Drive in Fort Defiance abandoned houses covered in graffiti, with broken windows, some roofs collapsed and broken glass everywhere, come into view.
Most of the houses are littered with liquor bottles, broken furniture and more graffiti and broken glass, making it a minefield to walk through.
This scene is near the homes of residents who are tired of the abandoned houses and the danger they create and attract such as gangs, drugs and alcohol.
"Tear them down," said Rio Puerco resident John, who did not want to give his last name. "They're an eyesore, the ones that are vacant haven't burned down – yet."
On April 22, a fire occurred in one of the abandoned houses located very close to an occupied residence. The roof of the house collapsed as flames were extinguished by fire crews from Navajo Pine and McKinley County.
Today the house lies in ruins with the roof collapsed, waiting to be cleaned up.
John, who lives next door to one of the abandoned houses, said it's a nuisance as kids play, find bottles left over from people who drink and break them.
"I'm not trying to point out a specific group," said John. "I had a neighbor who was on the roof and it collapsed and he cut himself bad from the glass inside."
He also owns dogs and they can get cut from the glass in the vegetation around the houses.
---